Wednesday, September 17, 2008
Avira front-runner in test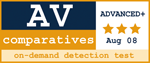 AV-comparatives.org again confirms outstanding detection performance
Tettnang, 17 September 2008 – In the recent test by the laboratory AV-comparatives.org in August 2008, Avira's AntiVir emerged as the clear winner: No other product masters virus detection as well as the Avira security solution. For the first time in the history of the AV-comparative.org tests, an anti-virus solution with a single scan engine took first place, ahead of all products even those with multiple scan engines.
AV-comparatives.org tested detection performance in several categories. The test used total of 2.3 million viruses, Avira Antivir Premium with a detection rate of 99.6% was a clear leader in front of all other products in the test.field. The same is true with the examination of more than one million viruses from the past nine months, Avira leads the field with 99.2% detected viruses.
The speed of Avira was assessed by AV-comparatives.org as being fast. Overall, Avira received the grade "Advanced +", the highest rating of the testing laboratory. The IT security experts at Avira therefore provide the best protection from viruses available on the market today.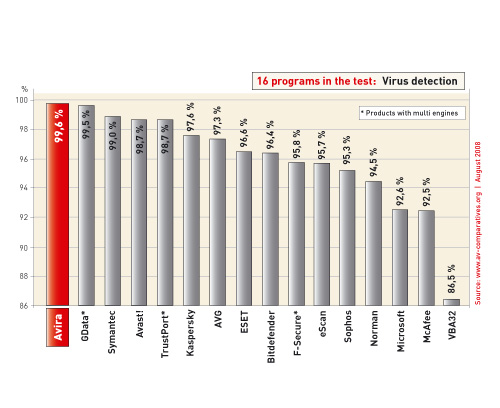 Detailed results of the test are available for download at www.av-comparatives.org.
About Avira
Avira protects people in the connected world – enabling everyone to manage, secure, and improve their digital lives. The Avira umbrella covers a portfolio of security and performance applications for Windows, Android, Mac, and iOS. In addition, the reach of our protective technologies extends through OEM partnerships. Our security solutions consistently achieve best-in-class results in independent tests for detection, performance, and usability. Avira is a privately-owned company that employs 500 people. Its headquarters are near Lake Constance, in Tettnang, Germany, and the company has additional offices in Romania, India, Singapore, China, Japan & the United States. A portion of Avira's sales support the Auerbach Foundation, which assists education, children, and families in need. For more information about Avira visit www.avira.com.