Committed to your safety and privacy
Your photos, contacts, and credit card numbers are on your phone. We protect them all against malicious apps and mobile malware, such as ransomware and banking Trojans.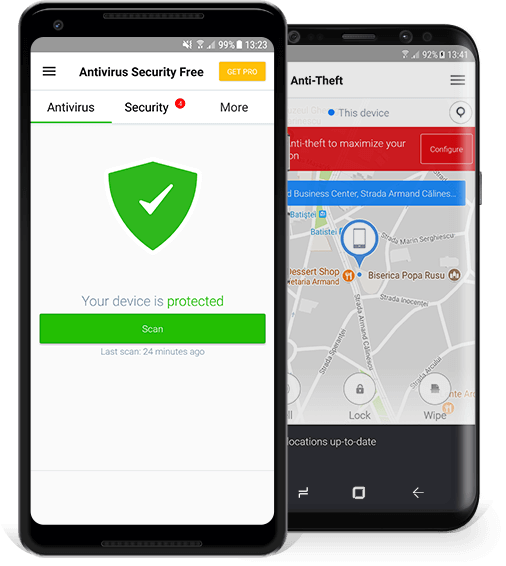 Locate. Protect. Recover.
These smart anti-theft tools help make lost phones a thing of the past:
Lock your phone, preventing unauthorized access.
Locate it by pinpointing its coordinates on a map.
Prompt the person who finds your phone to contact you with one tap.
Trigger a loud yell
You know your phone is close, but can't find it? Trigger a loud yell to find your phone under the couch… or in someone else's pocket.
Wipe your phone's contents
Lost your phone? Thieves may have your phone — but not your data; remotely wipe all sensitive content from your phone, including emails, credit card details, and text messages.
Remote or in-app — we've got
your back
Remotely trigger your anti-theft tools from the online dashboard or in-app from any of your registered Android devices (no limits!).
Make sure your email address is safe
Has your email address been hacked? Find it out in a couple of seconds. You can also check email addresses from your contact list.
Security trusted by over 5 million users
Avira Antivirus Security has also been certified and awarded by a number of independent testing institutes.

Avira Antivirus Security is one of the most popular security apps on the market. It has been tested, certified and awarded by a number of independent consumer organizations and testing institutes.

"There are many apps which claim to protect a device. But only very few of them actually achieve what Avira manages. This app is expressly recommended for security-conscious users."
- CNET Editors' Rating
A full-featured security and anti-theft app
Take your security to the next level
Avira Antivirus Pro for Android goes a step further
in offering additional features.
Browse Safely
Safely shop and bank — even on your phone
Hourly Updates
Block zero-day attacks with the latest updates
Support
Get free access to mobile security experts
Now speed up
your phone
Discover Avira Android Optimizer – a free app that cleans your phone, increases your battery life, and gets your Android running at peak performance.
Learn more