Friday, June 22, 2018
Avira Selects BitPay for Bitcoin and Bitcoin Cash Payments Processing
ATLANTA and TETTNANG, GERMANY, June 22, 2018 -- Avira, the award-winning software developer, is the first cybersecurity company to accept Bitcoin and Bitcoin Cash from BitPay, the largest global blockchain payments provider. Avira successful borderless model supports cryptocurrency's global influence.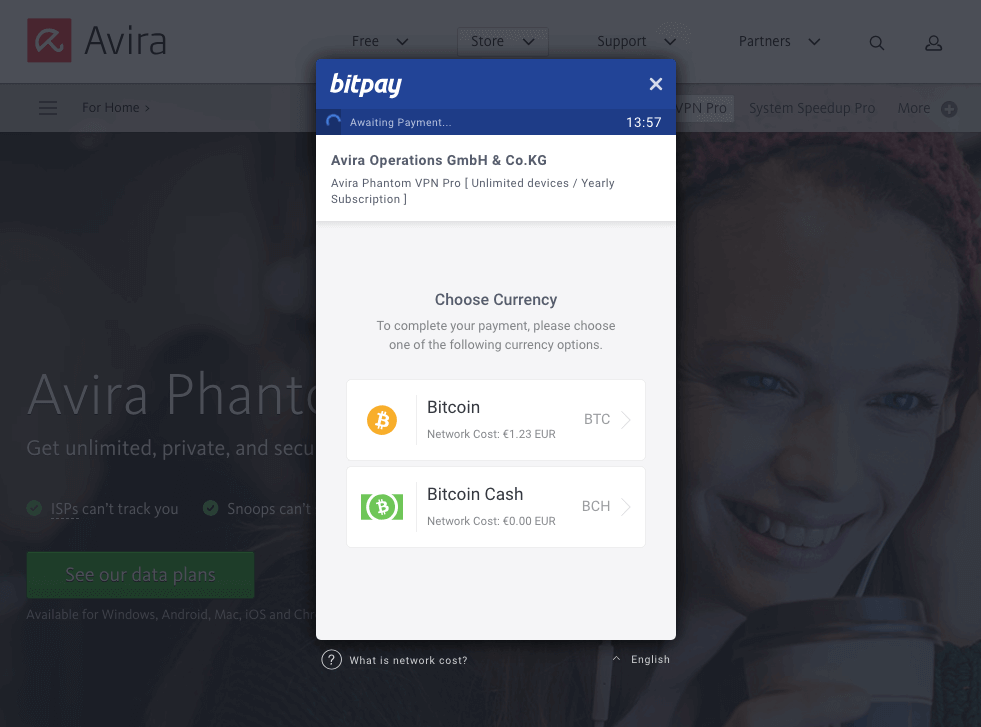 Privacy is under constant attack online as trackers follow each internet activity, devices monitor geo-location, and social media. The accumulation of private data is a big concern for many people – but is something most do little about. Avira Phantom VPN Pro, which offers unlimited, private and secure access to the web, is the first product available for cryptocurrency payment. Plans are in development to add other Pro products to accept Bitcoin and Bitcoin Cash.
"We are in the business of protecting people's privacy, in the connected world and the inherent nature of cryptocurrency is a natural fit," said Travis Witteveen, CEO of Avira. "Accepting Bitcoin and Bitcoin Cash from BitPay demonstrates Avira's commitment to innovation and payments and proves Avira's constant effort to offer to its customers the most up-to-date experiences, according to market trends/development."
As a push transaction, the user sends the exact amount of Bitcoin or Bitcoin Cash needed to pay the bill. This eliminates traditional credit card fraud and identity theft risks associated with credit cards. BitPay enables transactions from any computer or mobile device.
"BitPay was founded on the principal of helping merchants accept cryptocurrency. Further, it has been reported that credit card chargebacks cost merchants $19 Billion in 2017," said Sonny Singh, Chief Commercial Officer at BitPay. "Cryptocurrency is a practical and sustainable alternative to traditional payments for Avira."
About Avira
Avira protects people in the connected world – enabling everyone to manage, secure, and improve their digital lives. The Avira umbrella covers a portfolio of security and performance applications for Windows, Android, Mac, and iOS. In addition, the reach of our protective technologies extends through OEM partnerships. Our security solutions consistently achieve best-in-class results in independent tests for detection, performance, and usability. Avira is a privately-owned company that employs 500 people. Its headquarters are near Lake Constance, in Tettnang, Germany, and the company has additional offices in Romania, India, Singapore, China, Japan & the United States. A portion of Avira's sales support the Auerbach Foundation, which assists education, children, and families in need. For more information about Avira visit www.avira.com.