Friday, February 12, 2010
Fake anti-virus solutions imitate Avira
Cybercriminals are imitating the look of Avira products to help them spread their fraudulent and useless pseudo security solutions
Tettnang, 12 February 2010 – Even cybergangsters are aware of the good reputation and widespread use of Avira Security Solutions. Fake anti-virus solutions have now turned up that imitate the look of Avira in an attempt to take advantage of unsuspecting users. The falsified versions are called "Security Antivirus Suite" or "Antivirus Security Suite" and are offered using the promotional slogan "20 Years of Total Protection" on websites that also ape the look and feel of the Avira website. Avira asks all users only to download Avira AntiVir Personal-Free Antivirus from the official website www.free-av.com.
Known as FakeAV, RogueAV or scareware, these useless programs are designed to fool users into believing their computer has been infected with malware, even though such malware does not exist. On the contrary, the providers of this fraudulent software load harmless files onto the user's PC during installation, which often takes place unnoticed in the background while users are surfing the Net, due to vulnerabilities in outdated programs on the PC; these harmless files are then reported as detected viruses.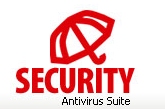 The cybercriminals have tried to imitate the Avira logo
Users can protect themselves by using an up-to-date anti-virus solution from a bonafide provider on their PC and by making sure to keep the installed programs and the operating system up-to-date at all times. Users should always get software directly from the manufacturers' download sites. To be sure of a clean source, PC users should key in the URL directly into the address line in their browser window, for example www.free-av.com.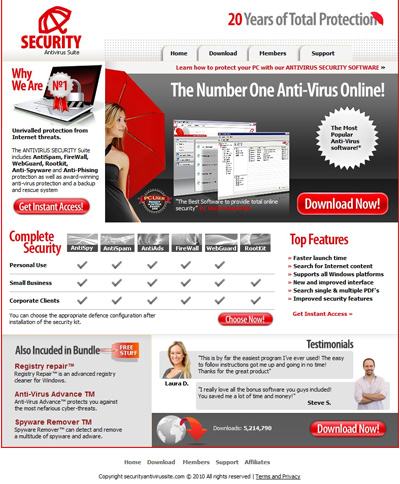 The fake websites have a look and feel very similar to the Avira website
In addition to free basic protection with Avira AntiVir Personal, more extensive protection packages are also available. Avira AntiVir Premium uses WebGuard to filter out malware from the data stream before it ever reaches the web browser. Virus protection costs $44.99 for one year. Avira Premium Security Suite provides all-round protection: it complements the features of Avira AntiVir Premium with a firewall to protect against attacks from the network, combats Spam and performs backups, all for a cost of $57.99.
About Avira
Avira protects people in the connected world – enabling everyone to manage, secure, and improve their digital lives. The Avira umbrella covers a portfolio of security and performance applications for Windows, Android, Mac, and iOS. In addition, the reach of our protective technologies extends through OEM partnerships. Our security solutions consistently achieve best-in-class results in independent tests for detection, performance, and usability. Avira is a privately-owned company that employs 500 people. Its headquarters are near Lake Constance, in Tettnang, Germany, and the company has additional offices in Romania, India, Singapore, China, Japan & the United States. A portion of Avira's sales support the Auerbach Foundation, which assists education, children, and families in need. For more information about Avira visit www.avira.com.