Essential Smartphone Security
Running Android 4.1 or earlier? Use our free app to stop the dirty USSD hack.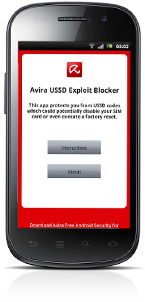 Avira USSD Exploit Blocker
Prevent an unwanted USSD wipe of your phone or sim with this simple new app.
USSD codes are keypad commands that can be used to access a variety of phone functions, from checking minutes to accessing expert controls.
Malicious web pages have recently exploited USSD Android functionality. By tapping the wrong web link or scanning a bad QR code, an unsuspecting user can execute a USSD wipe that disables the SIM card or even executes a factory reset, also known as a dirty USSD hack.
Fortunately, Avira now offers a USSD Android exploit detection app. It's a free and easy way to protect your phone and sim card's contents from unauthorized deletion.
Install Avira USSD Exploit Blocker
(Download from Google Play)
.
.
.
.
Did you know? Avira Free Android Security includes anti-theft and call filtering!
Don't let that smartphone get too mobile!
Keep your phone in good hands just in case it leaves your hands.
Learn more

Most popular
Data protection and antispam for networks of up to 100 users
Centrally managed antivirus for workstations and file servers
Fast, flexible security for desktops and laptops
.
.
.
.