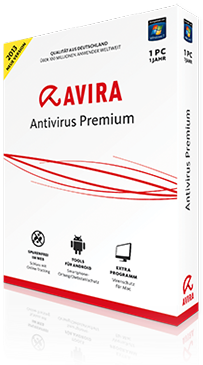 Avira Antivirus Premium 2013
Safely Shop, Share,
Stream & More.
Delivering capability without complexity.
Beyond virus detection & malware removal,
Avira Antivirus Premium offers versatile protection that adapts to your lifestyle.
Test drive Antivirus Premium 2013
For the next 30 days, you can evaluate this top antivirus free of charge!
Download My Free Trial
Advanced

Security.

Enhanced

Privacy.

Extreme

Reliability.
Ultralight Cloud Scanning

Communal & artifical intelligence combine to deliver superior real-time protection.

Safe Online Shopping

Enjoy a serene online shopping, streaming & browsing experience.

Award-Winning Scanner

Scan shared folders, emails & attachments with the industry's leading antivirus engine.

Free Live Support

24/7 specialist support to remotely fix your malware-related challenges for you.
See Full Features & System Requirements
Real-Time Protection
Monitors nonstop for viruses, worms, Trojans and more
Rootkit Protection
Traps hidden malware that conventional antivirus doesn't find
AntiAd/Spyware
Shuts out online spies and annoying adware
ProActive
Halts undiscovered threats by tracking their behavior
Protection Cloud
Ultrafast scanning and immediate online identification of new malware
AHeAD Technology
Inspects unfamiliar code for suspicious signs
Network Drives
Malware scanning for shared folders
Browser Tracking Blocker
Stops web trackers from recording your activities*
Website Safety Advisor
Rates the safety of all sites in your search results*
Advanced Web Protection
Intercepts malicious websites before they load
AntiDrive-by
Blocks unwanted software downloads while you surf
Mail Protection
Keeps infected emails at a safe distance from your inbox
* This feature is part of the Avira SearchFree Toolbar (included).
Social Networks
Extends parental supervision to Facebook and other social media
Quick Removal
Eliminates viruses in one click
Generic Repair
Removes all traces of a malware infection automatically
Rescue System
Jumpstarts your PC in an emergency
Live Support
Unlimited access to friendly, knowledgeable Avira security specialists
Game Mode
Suspends unnecessary notifications during games and movies
Netbook Support
Fast virus scans even on compact machines
Express Installation
Skips the boring Q&A to launch your protection fast
System requirements
Before you download Avira Antivirus Premium 2013, please verify that your system meets these minimum specifications:
Windows:
Windows 7 (32-bit or 64-bit)
Windows Vista SP1 (32-bit or 64-bit)
Windows XP SP3 (32-bit)
Windows XP SP2 (64-bit)
RAM:
Min. 1024 MB RAM (Windows Vista, Windows 7)
Min. 512 MB RAM (Windows XP)
HDD:
Min. 150 MB available disk space (additional temporary and quarantine space needed)
Computer:
Computer Pentium or later, at least 1 GHz
Note: Administrator rights, an internet connection and a web browser are required during installation. ProActive is currently supported on 32-bit systems only.
Which Product Best Meets Your Needs?
Antivirus
Premium
Internet
Security
Internet
Security Plus
Detects, Blocks & Removes Malware
24/7 Free Live Support
Safe Online Shopping
Secure Online Banking
Protects your ID/Passwords
Safeguards your Children
Accelerates your PC's Speed
Frees up your Disk's Space
Encrypts your Data

$36.99

$59.99

Learn More

$81.99

Learn More
Evaluate Antivirus Premium for free!
Experience genuine peace of mind for the next 30-days with our free trial!
Download My Free Trial
Back to Top

Most popular
Data protection and antispam for networks of up to 100 users
Centrally managed antivirus for workstations and file servers
Fast, flexible security for desktops and laptops
.
.
.
.