Your guarantee of Quality and Reliability
Avira is a founder member of IT Security made in Germany.
Avira is a foundation member of the ITSMIG e.V. association and the only producer of anti-virus software who has committed to the voluntary agreement to fulfill the principles of the initiative "IT Security made in Germany".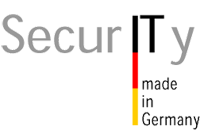 In this agreement we commit, among other things, to:
Exclusively provide IT security solutions no other third party can access.
Produce products that do not cause the transmission of crypto keys, parts of keys or access recognition.
Eliminate vulnerabilities or avoidance methods for access control systems as fast as possible once detected.

Products that have this logo guarantee to be free of vulnerabilities as a consequence of hidden access or weak encryption mechanisms.
For further information, please see our Avira information flyer and: www.teletrust.de/itsmig.

Most popular
Data protection and antispam for networks of up to 100 users
Centrally managed antivirus for workstations and file servers
Fast, flexible security for desktops and laptops
.
.
.
.