The Avira Protection Cloud
Malware detection is reaching new heights.
Every day, new threats arrive on the scene, tasking your antivirus with ever more malware to scan, detect and block. That's why we're raising your security to the cloud, freeing your system's resources for the good stuff: work, web, games, communication. Take your protection sky high with cloud scans as fast as lightning and virus information that is updated in real time.
Cloud Scanning: More muscle, less weight.
When you enable the Protection Cloud, the digital fingerprint of suspicious executable files on your PC (e.g., .exe, .dll) is checked against real-time virus data in the cloud. If an unknown file is found—that's rare for most people—it's uploaded for inspection and then classified as clean or infected. But fear not: we won't upload your documents, pictures or other personal files.
Matching just a tiny fingerprint consumes a fraction of the system power it would take to comb through an entire file. The result? Ultrafast scanning that conserves maximum PC power for your normal activities. What's more, cloud scanning works with virus information that is updated nonstop in the cloud. So you're protected against the latest threats, even between regular product updates.
Ready to take to the skies?
For home use, the Avira Protection Cloud is included with Antivirus Premium 2013, Internet Security 2013 and Internet Security Plus 2013.
Learn more
In our business line, Avira Protection Cloud is an integral component of Avira Professional Security 2013 and is incorporated into our business bundles: Avira Endpoint Security, Avira Small Business Security Suite and Avira Business Security Suite.
Learn more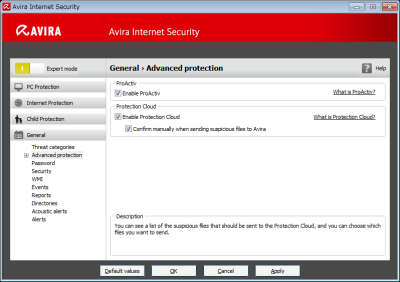 Most popular
Data protection and antispam for networks of up to 100 users
Centrally managed antivirus for workstations and file servers
Fast, flexible security for desktops and laptops
.
.
.
.