Download Avira Free Antivirus
Simple. Dependable. Secure.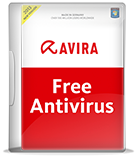 Download Avira Free Antivirus 2013
Avira Free Antivirus is our flagship product, trusted by millions of users around the world. While our system scanner protects you from all types of malware, our complementary toolbar safeguards your privacy and includes a reputation advisor, which rates the security of websites in your search results. With this free antivirus download, you will always know before you go!
EXE
2 MB
Version: 13.0.0.284
|
Mar 20, 2013
ZIP
55 MB
Version: 3.1.3.5-0
|
May 21, 2012
Want to learn more?
Get full details here.
Need More From Your Antivirus?
Do you shop online, share folders with friends or enjoy multiplayer gaming? If so, consider Avira Antivirus Premium 2013. Equipped with Protection Cloud technology, it provides advanced online security coupled with ultra-light resource consumption.
Looking for Avira's older product versions?
To download Avira legacy software, please contact our Customer Support service with your request.

Most popular
Data protection and antispam for networks of up to 100 users
Centrally managed antivirus for workstations and file servers
Fast, flexible security for desktops and laptops
.
.
.
.