Potentially incompatible software
When two security solutions run in parallel, there can be serious negative consequences for the stability of the computer.
Avira, as a publisher of security solutions (Firewall, Antivirus, Mail scanner, Web filter), needed to warn and protect its users of such scenarios, which can disrupt the normal usage of the computer.
We at Avira take customer satisfaction very seriously and try to create the best user experience starting at the installation.
Avira is using Opswat's AppRemover to detect and automatically uninstall 3rd party security software.
By utilizing AppRemover, Avira reduced the amount of support incidents related to software malfunction due to the fact that the customers had more than one security solution installed on the computer.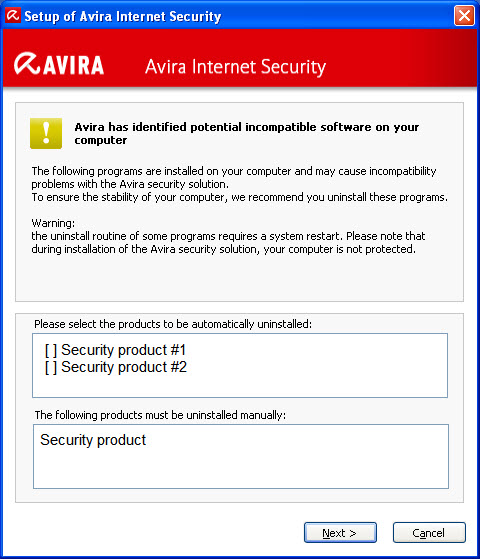 AppRemover was integrated in the setup of all Avira products running on Windows. The product checks if there is potentially incompatible programs installed on the computer and displays these programs sorted in two categories.
If AppRemover reports that a program can be automatically uninstalled and that the uninstallation routine has been checked by the Opswat's QA, then the Avira product shows the product in the first category, under products which can be automatically uninstalled. However, even in this case, the user can select which software should be automatically uninstalled and which should remain on the computer. Any other detected program which is not in this category must be manually uninstalled by the user and it is shown in the second category.
If the user does not select any program in the first list and clicks simply Next, the installation will continue.
If you are a security software vendor and you see your software in that list, then have a look here. If you still think that your software is not creating any issues when it runs parallel to Avira's own security solutions you can contact our Support in order to start a discussion with us.
Before writing to Support, please note that our policy is to offer security together with the best customer experience and we do not and will not blindly whitelist any vendor that complains to us.
受影响的产品
Avira Professional Security [Windows]
Avira Free Antivirus [Windows]
Avira Antivirus Premium 2013 [Windows]
Avira Internet Security 2013 [Windows]
已创建 : 2012年12月14日星期五
上次更新 : 2018年3月28日星期三