Come si ripristinano le impostazioni proxy?
È possibile ripristinare manualmente le impostazioni proxy o, in alternativa, eseguire il programma "Reset_Proxysettings.exe" incluso.

Scarica Reset_Proxysettings.zip
Per eseguire un ripristino manuale, procedere nel modo seguente:
In Windows 7, fare clic su Start > Pannello di controllo (in Windows XP, accedere direttamente a Start > Impostazioni > Pannello di controllo > Opzioni Internet) e selezionare "Opzioni Internet" nella sezione "Rete e Internet".


Nella finestra "Proprietà Internet" selezionare la scheda "Connessioni".
There you click at "Local Area Network (LAN) Settings" on [em]LAN Settings[/em].


Here, you should remove the entry from the address at "Proxy server" and then disable the option "Use a proxy server for your LAN" again. Confirm this with the [em]OK[/em] button. This way you should have restored the original setting for your internet connection.


In alternativa, è possibile ripristinare manualmente le impostazioni proxy con il programma "Reset_Proxysettings.exe" incluso. Dopo aver estratto il file zip, dovrebbe venire visualizzato il seguente messaggio di conferma una volta fatto doppio clic sul programma: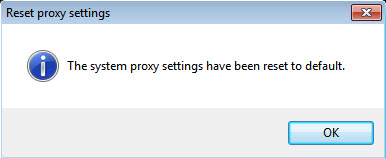 Prodotti interessati
Avira Professional Security [Windows]
Avira Server Security [Windows]
Avira Free Antivirus [Windows]
Avira Antivirus Premium 2013 [Windows]
Avira Antivirus Pro [Windows]
Avira Professional Security, Version 2012 [Windows]
Avira Server Security, Version 2012 [Windows]
Avira Internet Security [Windows]
Avira Antivirus Premium, Version 2012 [Windows]
Avira Internet Security, Version 2012 [Windows]
Avira Internet Security Suite [Windows]
Avira Ultimate Protection Suite [Windows]
Creato : mercoledì 14 gennaio 2009
Ultimo aggiornamento: venerdì 16 ottobre 2015