viernes, 23 de marzo de 2012
Kachingle Premium to Revolutionize Freemium Conversions
MOUNTAIN VIEW, CA, March 22, 2012 – Kachingle announces today Kachingle Premium – a usage-based micropayment service specifically architected to convert Freemium users into Premium customers. Kachingle Premium leverages social virality, product bundling, network effect, and its existing frictionless micropayment engine to effectively uplift revenues of Freemium PC and Web Application (App) vendors by 150% to 500%. Backend payment processing is provided through PayPal and traditional credit cards. Avira, one of the world's finest antivirus software applications with more than 100M users is the first vendor to join the Kachingle Premium family.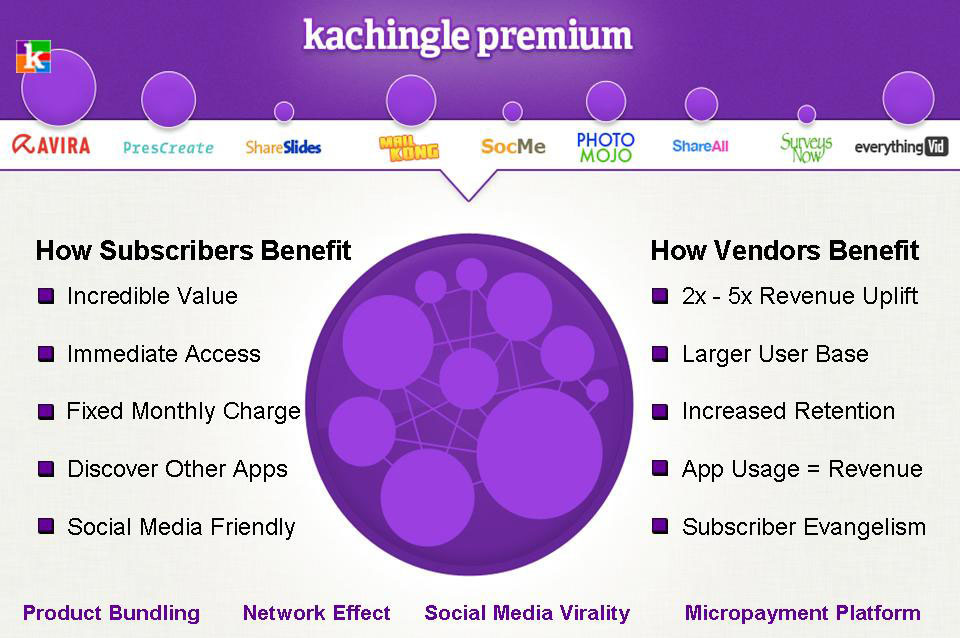 Kachingle Premium bundles complementary PC and Web premium applications at an irresistible price point, enabling app vendors and marketing partners to offer these bundled premium apps to free users. Kachingle Premium couples this with an integrated social media function to leverage user evangelism – a key to the success of the Freemium model. The initial bundle is designed for the internet power user and small business. Bundles will evolve to accommodate all types of apps and users.
Founder Cynthia Typaldos launched Kachingle in 2010 with a vision of an underpinning technology that could efficiently and frictionlessly handle micropayments. That technology has been up and running without a failure for two years. From that experience came the realization that this same technology could be applied to the Freemium marketplace. Cynthia is particularly pleased with how Kachingle Premium implements a new capability – "virtual bundling" which enables app vendors to choose their marketing partners, and users to effortlessly create on-demand bundles that are unique to them. Says Cynthia; "This is not your grandpa's/grandma's fixed cable-TV bundle…it's the 21st century form of virtual digital bundling which is user-centric and producer-customizable at the same time!"
According to Fred Dewey, CEO of Kachingle; "Until now, no one has found a way to make micropayments efficient and user-friendly. And many Freemium app vendors are struggling with low conversion rates. Kachingle has solved both these problems with our patent-pending, micro-payment platform. Network effects kick in as each Kachingle Premium app Vendor brings their user base to the party, thus creating a much larger overall user base to which all vendors can market. Revenue to the vendors is based on subscriber usage, making it fair and compelling to vendor and user alike."
"For our launch in Spring 2012 we are actively seeking four more Freemium web app vendors to be part of the charter bundle. We're especially interested in web apps in the photo, video, and presentation space as well as offerings for social media management, surveys, and email marketing. But we welcome inquiries from any Vendor with an app used by internet power users or small businesses.
Avira of Tettnang, Germany, a leading, worldwide supplier of anti-virus & security solutions, has partnered with Kachingle and brings 100 million users into the user network. Thorsten Bruchhäuser, Avira's Director of Global Consumer Business, says; "We are constantly striving to bring value to the millions of users in our community. Delivering frictionless access to applications while increasing the exposure of the Avira brand achieves this goal. Using the sophisticated Kachingle Vendor revenue model we clearly see the potential uplift in revenues for us."
"PayPal has worked closely with Kachingle on their use of our Subscription and MassPay services and our Micropayment fee structure. We love their newest foray into the wild world of micropayments and are thrilled to be their payment platform provider." – Mary Ku, Director of Product Management for Digital Goods, PayPal.
For information on how to get your Web or PC app into Kachingle Premium, contact Daniel Reid at (760) 576-9928 daniel@kachingle.com , Cynthia Typaldos at (408) 867-8875 cynthia@kachingle.com, tweet to @kachinglepreem, or visit www.kachinglepremium.com. Kachingle Premium is slated to launch in Spring 2012.
About Kachingle
Kachingle is dedicated to developing monetizing services based on its patent-pending, usage-based micro-payment technology. Kachingle's initial Spring 2012 offering of Kachingle Premium with 5 apps will be enhanced over the next year to comprise additional complementary apps. Kachingle is a privately held company and is located in Mountain View, CA.
About Avira
Avira stands for extreme reliability and internet freedom around the globe.
The company was founded 25 years ago on Tjark Auerbach's promise to "make software that does good things for my friends and family". Because of Avira's security expertise and award-winning antivirus software, today more than 100 million consumers and small businesses live free of spyware, phishing, worms and other internet based threats. The company delivers IT-security protection to computers, servers and networks both directly and in the cloud.
In addition to protecting the online world, Avira's CEO promotes well being in the offline world through the Auerbach Foundation, which supports charitable and social projects. The philosophy of the foundation is to help people to help themselves.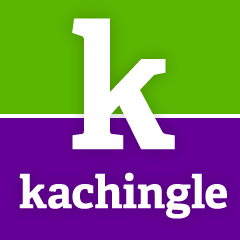 Daniel Reid, business development
(760) 576-9928
daniel@kachingle.com
@kachinglepreem

Cynthia Typaldos, founder
(408) 867-8875
cynthia@kachingle.com
@kachinglepreem

Rich Mullikin
Rocket Science PR on behalf of Avira
tel: 415-464-8110 x216
cell: 925-354-7444
rich@rocketscience.com

Avira GmbH & Co. KG
info@avira.com
http://www.avira.com
Acerca de Avira
Avira quiere que sus clientes "vivan libres" de spyware, phishing, virus y otras amenazas localizadas en internet. La empresa fue fundada hace 25 años con la promesa de Tjark Auerbach de "crear software que haga cosas buenas para mis amigos y familiares". Ahora, más de 100 millones de consumidores y pequeñas empresas confían en la experiencia en seguridad de Avira y su galardonado software antivirus, lo que convierte a la empresa en la segunda en importancia en cuota de mercado a nivel global. Avira proporciona seguridad informática para ordenadores, smartphones, servidores y redes, ofrecida como software o servicios situados en la nube.
Además de proteger en mundo en línea, el director ejecutivo de Avira promueve el bienestar en el mundo sin conexión a través de la Fundación Auerbach, que apoya proyectos de beneficencia y sociales. La filosofía de la fundación es ayudar a que la gente se ayude a sí misma.
Para más información, por favor visite www.avira.com o únase a la comunidad en www.facebook.com/avira.