Avira Internet Security: How can I unblock an application in Avira FireWall?
In case the FireWall blocks an application, which you need for Internet access, you can unblock it in the Application rules configuration of Avira FireWall.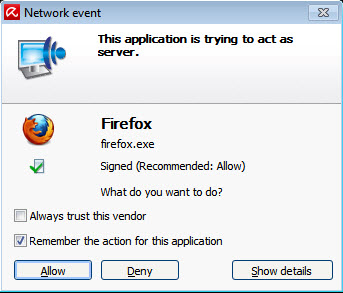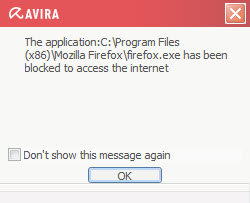 To unblock the application, follow the steps below:
Start the Avira Control Center
Just double-click the umbrella icon in the tray, in the bottom-right corner of the screen, near the system clock. Or you can double-click the Control Center icon on your desktop, created during installation.
Go to Extras → Configuration → Internet Protection, in the menu bar.
Click on the plus sign next to FireWall, to expand the FireWall menu and click on Application rules
In the right panel you can see the FireWall rules for applications and processes. The list has three columns:

Application
Active Connections
Action

The most important one is Action, which shows how FireWall is treating the application.
If the action is Deny, the FireWall blocks the network traffic for that application.

To unblock an application you blocked by mistake, you can click on the action twice, to change the action into Allow.

To save the change, press Apply and then OK

The previously blocked application should now be allowed to communicate via Internet or network.


Affected products
Avira Internet Security [Windows]
Avira Internet Security, Version 2012 [Windows]
Created : Thursday, April 30, 2009
Last updated: Wednesday, October 1, 2014