What is the difference between Real-Time Protection and System Scanner
Avira Real-Time Protection protects your system continuously in real time and protects you every time reliably from infections. The Avira Real-Time Protection runs in the background and monitors your system continuously, without you noticing anything.

At the Avira Control Center you get an overview about the checked files on your computer at any time.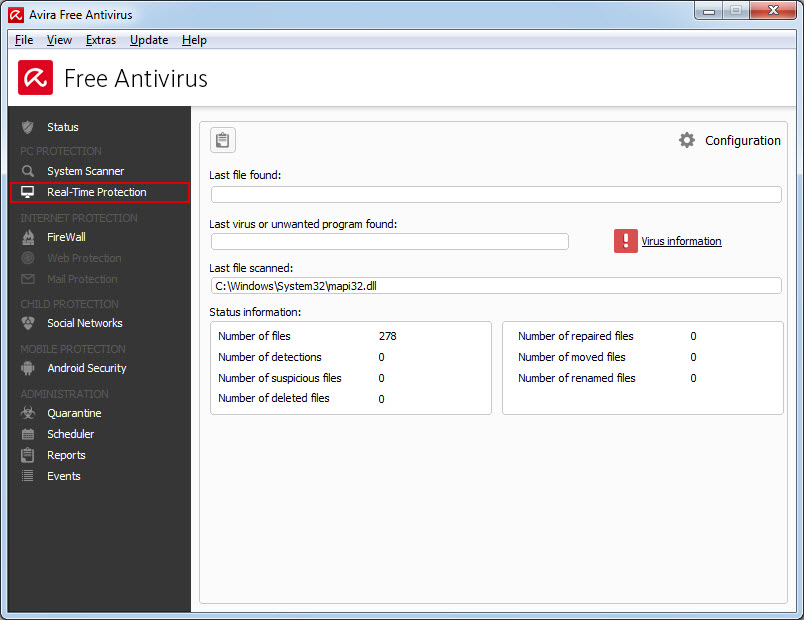 The Avira System Scanner checks your whole hard disk for malware. To guarantee the best possible protection, we recommend performing a frequent (e.g. biweekly) system scan. This system scan has to be performed manually and runs in the foreground.
To check your system manually for malware, please proceed as follows:
Open the Avira Control Center
Click the button Scan system



The System Scanner starts





---

Note:
Please note that depending on your hard disk size the system scan may take some time and your system might respond a little more slowly.



---
Affected products
Avira Professional Security [Windows]
Avira Free Antivirus [Windows]
Avira Antivirus Premium 2013 [Windows]
Avira Antivirus Pro [Windows]
Avira Internet Security [Windows]
Avira Internet Security Suite [Windows]
Avira Ultimate Protection Suite [Windows]
Created : Wednesday, January 7, 2009
Last updated: Friday, October 16, 2015