Error code: 563
You have probably tried to activate another Avira suite with your Email address. Avira protects you and all of your devices with only one license; therefore it is not necessary to obtain a second license in order to protect additional devices.

If you purchased a second license, you have 3 options:
Add the remaining term of the current product to your newly purchased Avira product


Use the new Avira product. (The previous product remains active in your account. Afterwards, you can either continue using this old product with a different Email address or make a gift to someone)


Give away the newly acquired product
If you did not purchase your product in our online shop, please follow the instructions here.
If you purchased your product online, please log in to your personal account. This can be accessed via our website with a click on the Log In button in the upper right corner.





Thereafter, enter your Email address with which you tried to update your product and afterwards enter the password of your account.
---
Note
If you have forgotten your password, simply click on Forgot your password? You will receive an Avira Email with a link to renew your password.
---
Once you are logged in, select on the left hand side the option Products and then select the license which you would like to activate. Move the mouse over the gray area "AVAILABLE User Activation" and then click Activate.



Afterwards, select one of the displayed options. Further information about activation, can be found here.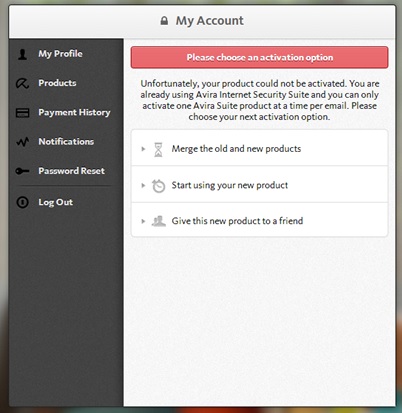 Affected products
Avira Free Antivirus [Windows]
Avira Antivirus Pro [Windows]
Avira My Account [Windows]
Avira Internet Security Suite [Windows]
Avira Ultimate Protection Suite [Windows]
Created : Thursday, September 19, 2013
Last updated: Wednesday, November 4, 2015