Sending the Avira 2014 product as a gift to a friend or relative
You can choose to send the new Avira 2014 product that you are trying to activate to a friend or relative via Email. By selecting this option your friend or relative will receive the activation code for the Avira 2014 product which he can use to activate with his/her Email address.

If you have purchased the product you will still see the transaction in your Avira My Account in the Payment History view.

To apply your selection you need to press the Choose button.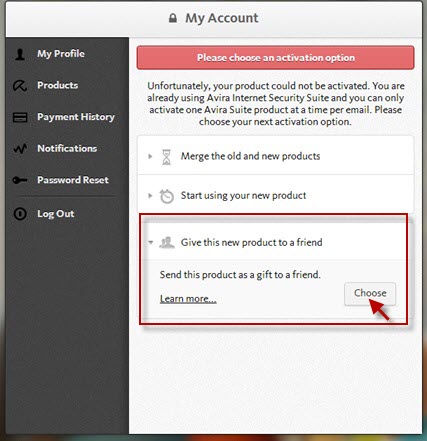 Once clicked you will be prompted to enter the friend's details to whom you are sending the Avira 2014 product activation code: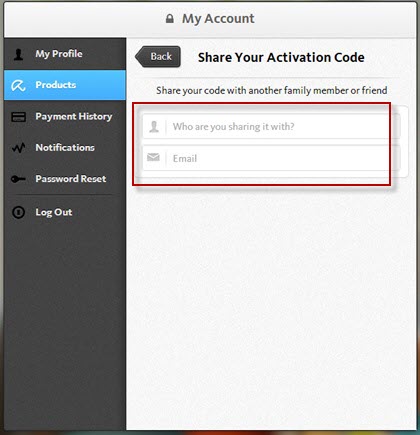 After entering your friend's details and pressing the Share button, an Email will be sent to your friend.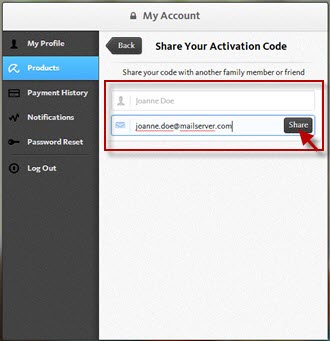 A success message will be displayed in your customer account.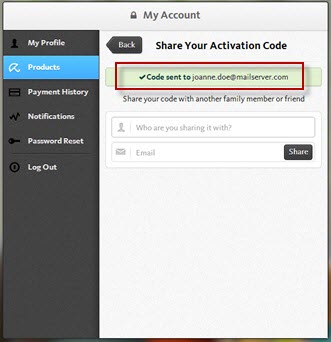 Affected products
Avira Free Antivirus [Windows]
Avira Antivirus Pro [Windows]
Avira My Account [Windows]
Avira Internet Security Suite [Windows]
Avira Ultimate Protection Suite [Windows]
Created : Thursday, September 19, 2013
Last updated: Friday, December 20, 2013