Choosing what Avira 2014 product to use from your Avira Account
This applies only for Avira 2014 product suites. The option is provided to you when trying to activate a new Avira 2014 product while you are already using one.

By choosing this option, you will be able to use only your new Avira 2014 product while the old product will remain active in your account.

By entering the Products menu in your Avira account you can either activate the Avira 2014 product with a different Email address or send it to a friend.

To apply your selection you need to press the Choose button.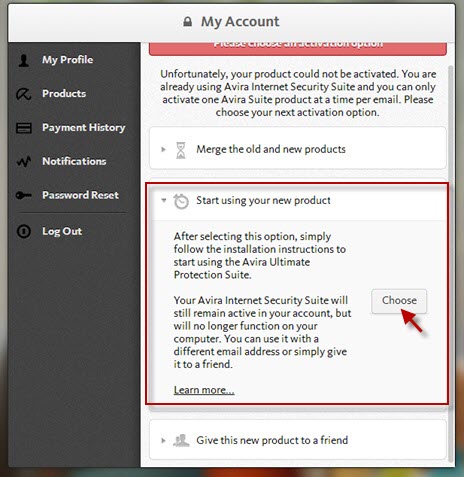 After pressing the Choose button you will be presented with the installation instructions for your new Avira product.
Affected products
Avira Free Antivirus [Windows]
Avira Antivirus Pro [Windows]
Avira My Account [Windows]
Avira Internet Security Suite [Windows]
Avira Ultimate Protection Suite [Windows]
Created : Thursday, September 19, 2013
Last updated: Friday, December 20, 2013