The logging report of the System Scanner does not increment
If logging of the scanner does not increase despite the correct setting, check whether the option "Optimized scan" is enabled.
Open the Avira Control Center by double clicking the Avira icon on the desktop and navigate to Extras → Configuration → PC Protection → System Scanner → Scan
Enable under "Additional settings" the option "Optimized scan"
Confirm the change by clicking Apply and OK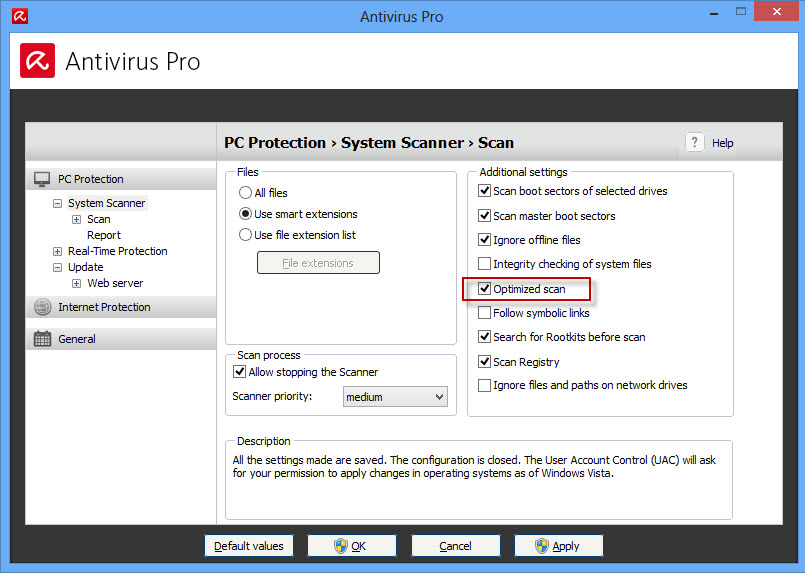 If the option is active, the processor capacity used during scanning is optimized. For better performance, the logging in optimized scanning mode does not exceed the standard level.
---
Note
This option is only available for multi-processor computers. If Avira software is managed via Avira Management Console, the option is displayed and it can be activated. However, if the client computer is not a multi-processor, the option is not used by the System Scanner.
---
Affected products
Avira Professional Security [Windows]
Avira Server Security [Windows]
Avira Free Antivirus [Windows]
Avira Free Antivirus [Not relevant]
Avira Antivirus Premium 2013 [Windows]
Avira Antivirus Pro [Windows]
Avira Internet Security [Windows]
Avira Internet Security Suite [Windows]
Avira Ultimate Protection Suite [Windows]
Created : Wednesday, August 4, 2010
Last updated: Thursday, November 12, 2015