Upgrade to Avira products of version 2012 via SMC is only possible with the SMC-update 52
Please note that the products of version 2012 (Avira Professional Security, Avira Server Security) can only be added to and managed by the SMC after update 52 of the Security Management Center.
This is why you should ensure that SMC is always up-to-date on your system.
Generally we recommend to upgrade the the latest SMC, which is in fact now called Avira Management Console (AMC). It already contains the necessary updates that are required for the management of Avira products, version 2012.
However, you need to verify that your version of the SMC is able to add Avira 2012-products. You can do this by starting your SMC and clicking on "Avira Security Management Center Frontend".
In the main menu on top you should now select "Help". In the drop-down list now click on "About Avira Security Management Center Frontend…".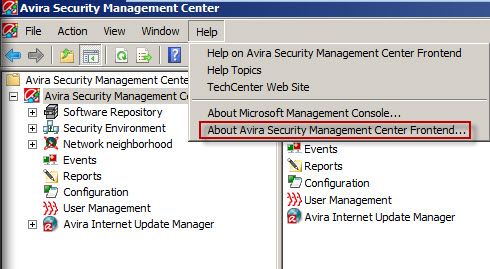 This will open the window for the version info about the Avira SMC-frontend.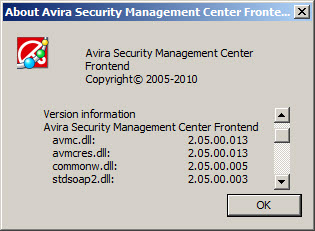 Here you should verify the version number of AVMC.DLL at "Avira Security Management Center Frontend". It should be be at least 2.6.0.28.
You also need to check the version number of AVMCS.EXE at "Avira Security Management Center Server. It should be at least 2.6.0.27.
Consequently, an update would be mandatory in the example on the screenshot above so that the configuration of old packages can be kept.
Alternatively, you can upgrade to the new packages of version 2012 by using the Internet Update Manager (IUM).
Affected products
Avira AntiVir Internet Update Manager [Windows]
Avira Professional Security, Version 2012 [Windows]
Avira Security Management Center [Windows]
Avira Server Security, Version 2012 [Windows]
Avira SmallBusiness Suite [Windows]
Created : Friday, September 30, 2011
Last updated: Thursday, December 5, 2013