Why are my exceptions not handled correctly?
To set exceptions in the Avira software, open the Avira product configuration (Extras - Configuration) and activate the Expert mode first.
As exceptions have to be configured separately for the System Scanner and the Realtime Protection, please select the corresponding module in the left panel:

Avira System Scanner:
PC Protection → System Scanner → Scan → Exception
Avira Realtime Protection:
PC Protection→ Realtime Protection → Scan → Exception
Then you can add files to be omitted for both Scanner and Guard in the configuration window.
For Guard you may also specify processes to be omitted from scanning.
Attention!
Make sure at exceptions to folders that the directory names have to be completed with a backslash \, otherwise a file name is assumed and the folder does not correctly exclude.
Example of a correct exception:
C:\testfolder\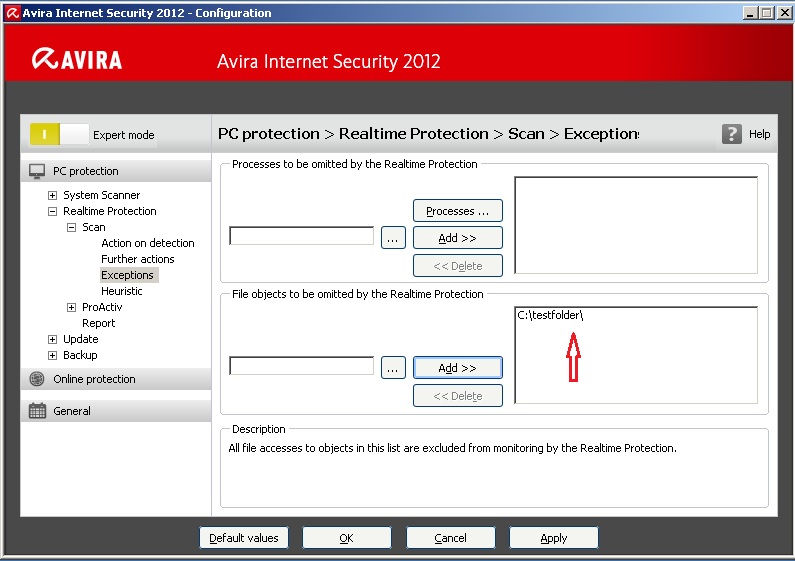 Affected products
Avira Professional Security [Windows]
Avira Server Security [Windows]
Avira Free Antivirus [Windows]
Avira Antivirus Premium 2013 [Windows]
Avira Internet Security [Windows]
Created : Monday, June 20, 2011
Last updated: Thursday, November 12, 2015