Frequently asked questions for the upgrade scenario from version 2013 to version 2014
There is a video available for this article:

Watch Video

What should I do to upgrade to version 2014?
There is no manual intervention necessary for the upgrade from version 2013 to version 2014.
The product will be updated automatically in the Avira Update Manager (AUM) Repository and rolled out to the clients.
Please make sure that the software packages are up-to-date as well (standard settings).
For this purpose, open the AMC frontend and select the item "Configuration". Now, in the new window, select the item "Update" and activate the check box next to:
"Automatically synchronize software repositories between AMC and AUM servers".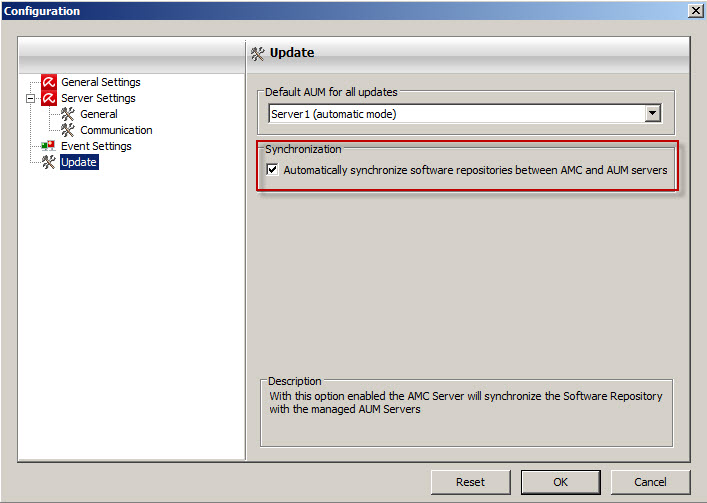 Why is the product now updated automatically?
It is the goal of the new Avira strategy to keep the customer always up-to-date with the latest detection technology. That's why it is no longer enough to update the virus definition files and the engine, but also to roll out new technologies within the product promptly to our customers.
How can I install the Avira FireWall module?
Starting with version 2014, the Windows firewall control can be managed via the program. A new installation of the previous FireWall module is not possible anymore.
How can I test the new version in advance?
A classical test environment is not possible anymore in the Avira Management Console because of the automatic product update. However, our beta-program is available to you.
You can find more information at https://betacenter.avira.com/login.html
Is a reboot necessary?
A reboot of the operating system is necessary in the case of the update from version 2013 to 2014, since important files within the program directory will be updated as well as drivers.
It is mandatory to excecute the reboot promptly after the request to ensure the optimum protection on the system.
Please note that later product updates do not necessarily need a reboot. This is only necessary for special adaptions from our part.
Affected products
Avira Professional Security [Windows]
Avira Server Security [Windows]
Avira Management Console [Windows]
Avira Update Manager [Windows]
Created : Monday, November 11, 2013
Last updated: Tuesday, February 4, 2014