Extension of the AMC event database for the generation of graphic reports
The event database ev_mgr.mdb can be opened with Access. This will enable access to data that has been collected by the Avira Security Event Manager.
Since customers have always wanted an option for graphical analysis, we would like to explain to you how you can customize your ev_mgr database.
Stop all services of the AMC and save your existing AMC event database "ev_mgr.mdb" that is located on Windows Server 2003 at

C:\Documents and Settings\All Users\Application Data\Avira\Avira Security Management Center Server\

or on Windows Server 2008

C:\Program Files\Avira\Avira Security Management Center Server\



Copy the template "ev_mgr.mdb" to your computer. It is offered below in this article for download
Now open this file "ev_mgr.mdb" with Access. Alternatively, you can copy the file on a computer that has Access installed and then open it there
Thereafter, select External Data → Import ... in Office Access
Now select "ev_mgr.mdb" from this article below
Then, click on the Select All button in the window "queries"
Now please activate the tab "Forms" and select here the button Select All as well
Now change to the tab "Module" and click here on the button Select All, too
Once all the queries, forms and modules have been imported, please configure the analysis form as the starting form

Click on Tools → Start and choose below "Display Form / Page" the form "evaluation form" and confirm the selection with OK
Restart the services in the AMC
Now you have the main form available the next time you start the AMC event database. The following reports are currently available with a graphical representation: :
Query agent version on the network
Query of the agent version on the network as a percentage
Query of virus detections on the network
Managed products
Product license information
Non-current computer / product update is available
Access main form "AMC Event Evaluation":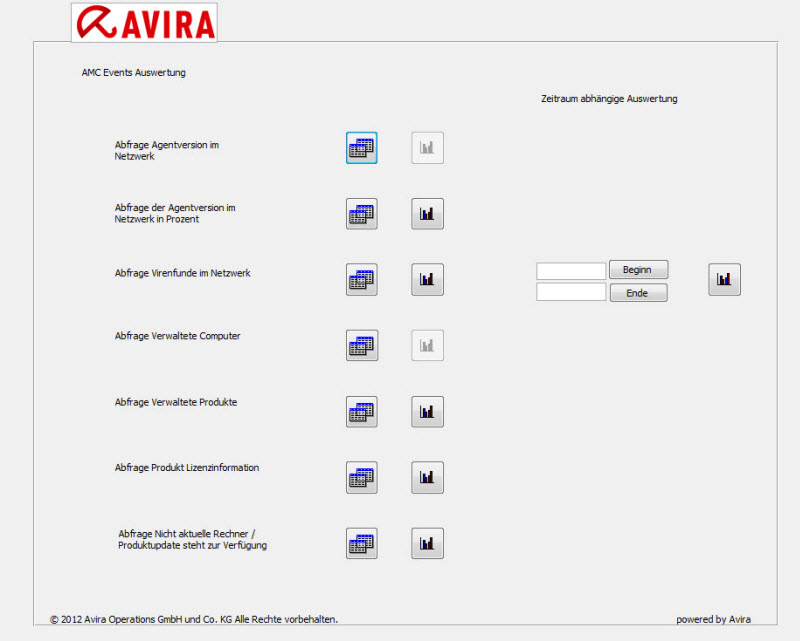 A sample diagram of the graphical report "Query Agentversion in the network in percent"
A click on this icon

in the evaluation form will create the following diagram for you: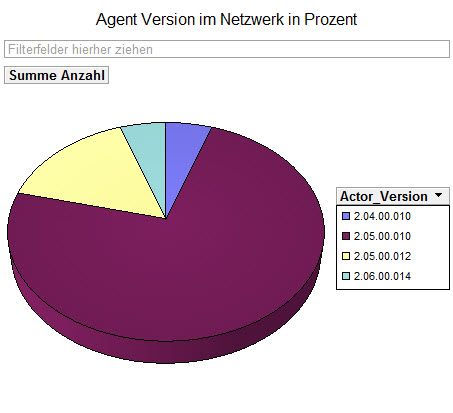 A sample diagram of the graphical report "Query Found Malware (File)" within the specified period:
With the buttons Start and End on the main form you can query a certain time period of virus detection events. This can narrow down which computer got infected in the network and when.
By clicking on the buttons Start and End it will open a calendar dialog box that looks like this: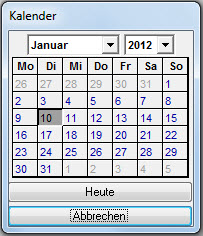 Please select the desired day with a double-click.
Thereafter, the same functionality must be applied for the button End.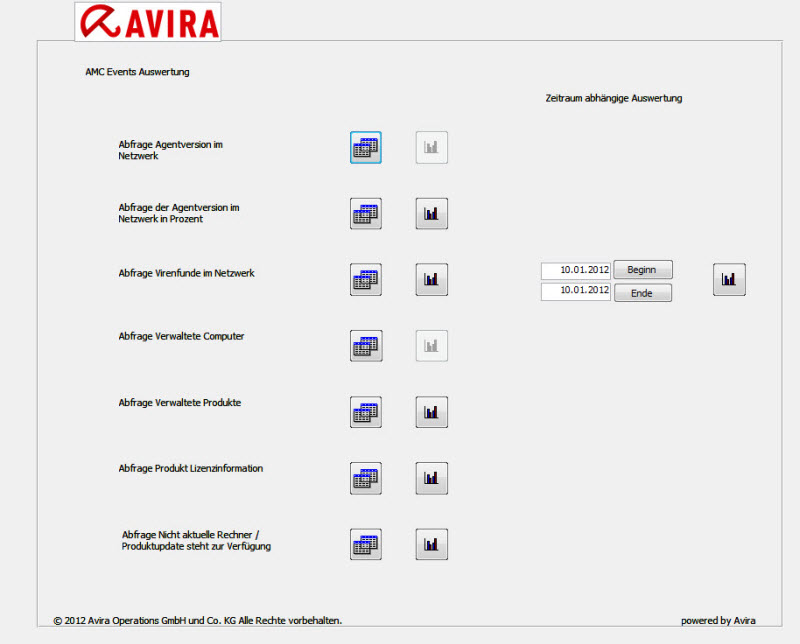 If the button

is pressed now after the period specifications, it will create the desired pie chart for the selected time period.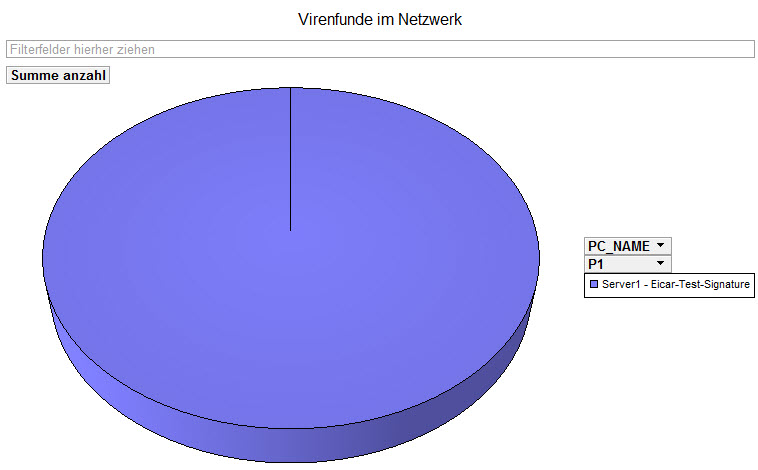 Note:

Generally, it is recommended to copy the existing "ev_mgr.mdb" database for an evaluation process and to analyze it only then. This is because the event manager might have opened the original database and therefore it shouldn't allow Access to open it for the second time.


Enjoy this new feature.

Download Eventmanager-template
Affected products
Avira Management Console [Windows]
Created : Tuesday, January 24, 2012
Last updated: Monday, March 21, 2016