How do I reset the proxy settings?
You can manually reset the proxy settings or alternatively run the attached program "Reset_Proxysettings.exe".

Download Reset_Proxysettings.zip
For a manual reset, proceed as follows:
In Windows 7 click on Start > Control Panel (in Windows XP, go directly to Start > Settings > Control Panel > Internet Options) and then select "Internet Options" within the category "Network and Internet".


In the window "Internet properties" please select the tab "Connections".
There you click at "Local Area Network (LAN) Settings" on LAN Settings.


Here, you should remove the entry from the address at "Proxy server" and then disable the option "Use a proxy server for your LAN" again. Confirm this with the OK button. This way you should have restored the original setting for your internet connection.


Alternatively, you can reset the proxy settings with the included program "Reset_Proxysettings.exe". After extracting the zip-file you should see the following confirmation once you have double-clicked on the program: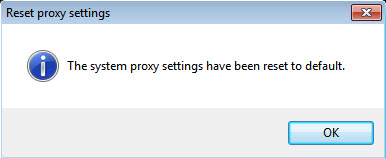 Affected products
Avira Professional Security [Windows]
Avira Server Security [Windows]
Avira Free Antivirus [Windows]
Avira Antivirus Premium 2013 [Windows]
Avira Antivirus Pro [Windows]
Avira Internet Security [Windows]
Avira Internet Security Suite [Windows]
Avira Ultimate Protection Suite [Windows]
Created : Wednesday, January 14, 2009
Last updated: Friday, October 16, 2015