Monday, October 26, 2015
All software, no malware.
Avira launches SafeApps.avira.com, a secure download portal
Tired of all the Potentially Unwanted Applications and malware infiltrating your PC via downloads? Avira SafeApps solves the problem once and for all by offering users pre-scanned software.
Since October 1st, over 15 Million P.U.A. (Potentially Unwanted Applications) have been detected on our users' devices by the Virus Lab. Throughout the year, the number of detections has incessantly increased: by October 2015, Avira is actively preventing a total of 225.882.055 P.U.A. from crawling on 56 Million computers and mobile devices.
Protecting users from these threats is a top priority. In addition to stopping malware from affecting its users, Avira decided to get to the root of the problem and come up with a safe alternative to the download portals offering software bundled with P.U.A.
Introducing Avira SafeApps
As user friendly as a regular download portal, SafeApps allows you to download the most popular Windows applications without having to worry about getting any Potentially Unwanted Applications or malware. By scanning every app for hidden toolbars, installers, and adware, Avira SafeApps succeeds in offering a secure download portal, free of malware and junkware.
"With SafeApps we are laying the first building blocks for a truly safe download portal. When we started a few months ago we had a simple mission in front of us: to build an easy to use download portal based on the powerful Avira technology and strong consumer privacy beliefs" said Victor Mihaiu, Product Manager SafeApps at Avira. "We have a long journey ahead, allowing users to download only scanned Windows applications is just the first step".
Below is a diagram of how Avira checks every software offered in SafeApps: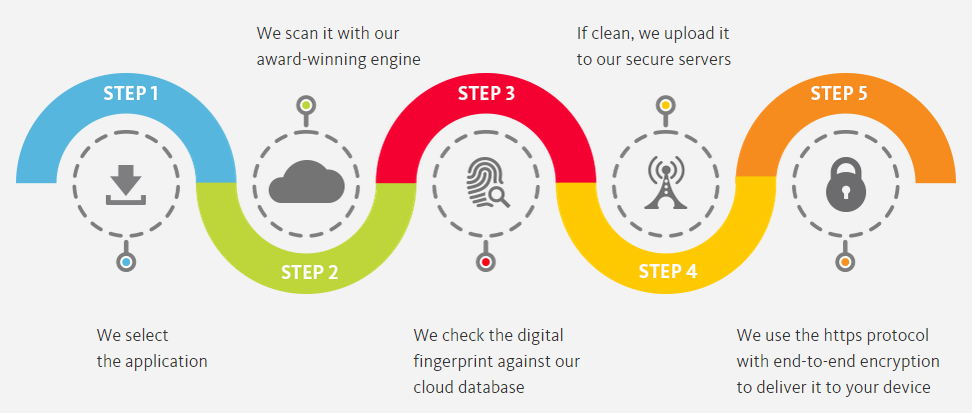 Make sure you don't welcome any malware or P.U.A. on your device;
Download only scanned applications with Avira's SafeApps starting today: https://safeapps.avira.com
Links
Media Contacts:
Iulia Mazilu
PR & Social Media Manager
Tel: (+40)730 280 206
Email: iulia.mazilu@avira.com
About Avira
Avira protects people in the connected world – enabling everyone to manage, secure, and improve their digital lives. The Avira umbrella covers a portfolio of security and performance applications for Windows, Android, Mac, and iOS. In addition, the reach of our protective technologies extends through OEM partnerships. Our security solutions consistently achieve best-in-class results in independent tests for detection, performance, and usability. Avira is a privately-owned company that employs 500 people. Its headquarters are near Lake Constance, in Tettnang, Germany, and the company has additional offices in Romania, India, Singapore, China, Japan & the United States. A portion of Avira's sales support the Auerbach Foundation, which assists education, children, and families in need. For more information about Avira visit www.avira.com.