Wednesday, November 27, 2013
'Avira Savings Advisor' Finds Best Prices And Trusted Websites for Cyber Monday Shopping
Tettnang, Germany --- November 25, 2013 – Just in time for the holiday shopping season, security expert Avira announced today the release of Avira Savings Advisor – a simple browser add-on that helps shoppers find the best prices and the most trustworthy e-commerce sites to buy online.
The Avira Savings Advisor add-on extension works with any browser—Chrome, Firefox, Safari and Internet Explorer—and can be installed by going to http://www.avira.com/en/Avira-Sparberater-Landing-Page.
How it works is Avira Savings Advisor scans whatever product you are looking at on a web page and, if it finds better prices for that product at reputable stores elsewhere on the Web, it displays them in a red ribbon at the top of your screen: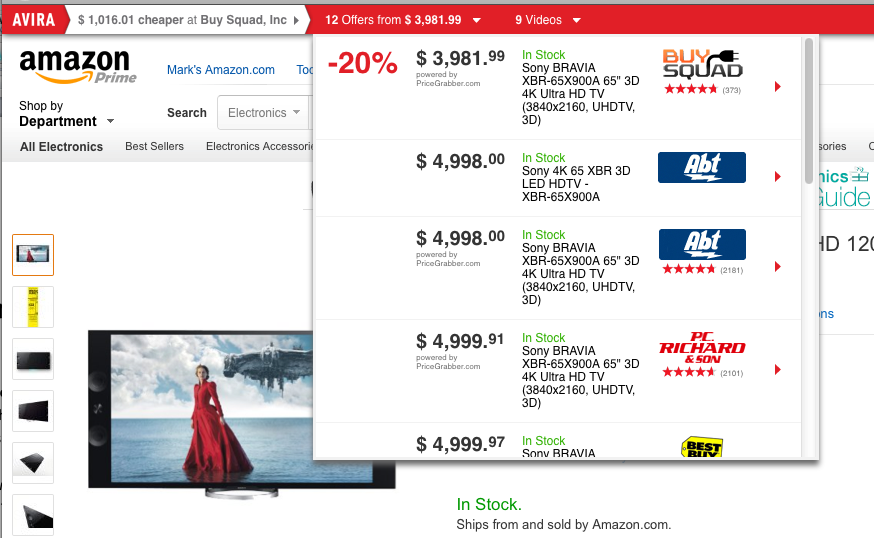 In addition to finding the best deals, Avira Savings Advisor also protects shoppers from potential fraud or disappointment by checking the website for security vulnerabilities and evaluating the merchant for trustworthiness, return policies, and other shopper-friendly attributes. In all, Avira Savings Advisor checks more than a dozen variables including:
Positive average of user reviews
Presence of email and telephone support contacts
Certificates and Trust-marks (e.g. Bizrate, NexTag Trusted Seller, etc.)
Encrypted payment systems and at least two trusted payment options (e.g. major credit card & PayPal)
Stated return policies
Stated shipping and delivery costs
Company history (more than 1 year active in business)
Positive credit score (via Creditreform Check)
"We recently came across some survey results which said that 50 percent of shoppers can't tell how to evaluate the trustworthiness of online shops. That prompted us to develop a tool in time to help shoppers for Black Friday and Cyber Monday," said Travis Witteveen, CEO of Avira. "We wanted to offer people something really useful for the busy online shopping season and beyond, so we collected some of our security wisdom and Internet know-how and packaged it into a simple-to-use browser add-on that is optimized for both safe online shopping and finding the best deals."
Links
Media Contacts:
USA:
Rocket Science PR, for Avira
Rich Mullikin, APR
Tel: +1 415 464 8110 x216
Mobile: +1 925 354 7444
Email: rich@rocketscience.com
Europe:
Flutlicht GmbH, for Avira
Tel: +49-911-47495-17
Fax: +49-911-47495-55
Mobil +49-170-225 2603
Email: avira@flutlicht.biz
About Avira
More than 100 million consumers and small businesses depend upon Avira's security expertise and award-winning antivirus software, making the company the number-two market share leader globally. Avira is ranked #1 in technology innovation according to ABI Research; recommended by Consumer Reports for its free antivirus software; cited by OPSWAT as the #1 fastest-growing antivirus vendor in 2012 and the #2 largest vendor worldwide in 2011; and has received a nearly unbroken string of Virus Bulletin VB100 awards for the past decade.
Avira provides IT-security protection to computers, smartphones, servers and networks, delivered as both software and cloud-based services. Visit www.avira.com.