Monday, October 1, 2012
Avira Releases Free USSD Exploit Blocker App
Tettnang, Germany --- October 1, 2012 – Security expert Avira today released a free security app for Android phone users to protect them from remote USSD attacks. The Avira USSD Exploit Blocker app is available at the Google Play app shop.
"Most malware writers are motivated by money, and Android is no exception. There are now obvious ways to use USSD attacks for financial gain," said Tjark Auerbach, founder and CEO of Avira. "But in the worst case, this exploit can be used to factory reset your Android phone and wipe out all your data without your knowledge. So we developed the Avira USSD Exploit Blocker to protect Avira's customers and everyone else who needs it."
The USSD vulnerability was discovered by Dylan Reeve and was originally thought to affect just Samsung Galaxy phones, but it has since been confirmed to affect all Android phones running versions 4.0.x or lower. It works by using the special dial code, for example *#06# to display a phone's IMEI number, which in turn can be manipulated via SMS, NFC beam or even a malicious website link to lock the phone's SIM card, or factory-reset the phone and wipe out all its data. In addition, sending a special code can re-direct all calls to a premium number in order to pile up charges on the phone user's bill without the user knowing.
Avira encourages all Android phone users to go to https://play.google.com/store/apps/details?id=com.avira.android.telblocker from their device and install the app.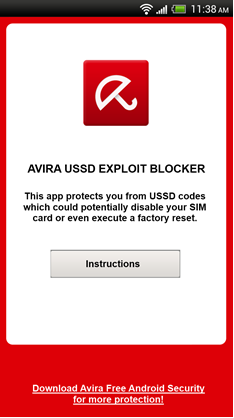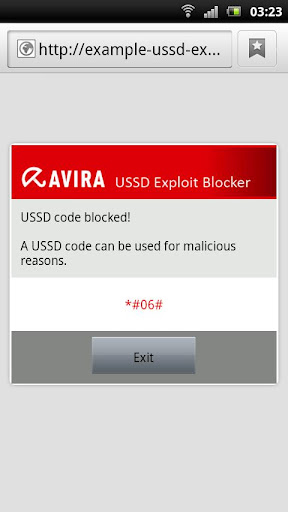 Media Contacts:
USA:
Rocket Science PR, for Avira
Rich Mullikin, APR
Tel: +1 415 464 8110 x216
Mobile: +1 925 354 7444
Email: rich@rocketscience.com
Europe:
Flutlicht GmbH, for Avira
Veit Kollera
Tel: +49-911-47495-17
Fax: +49-911-47495-55
Mobile: +49-170-2252603
Email: v.kollera@flutlicht.biz
About Avira
Avira protects people in the connected world – enabling everyone to manage, secure, and improve their digital lives. The Avira umbrella covers a portfolio of security and performance applications for Windows, Android, Mac, and iOS. In addition, the reach of our protective technologies extends through OEM partnerships. Our security solutions consistently lead in independent tests for detection, performance, and usability. Avira is a family-owned company that employs 500 people. Its headquarters are near Lake Constance, in Tettnang, Germany, and the company has additional offices in Munich, Bucharest, Beijing, and Silicon Valley. A portion of Avira's sales support the Auerbach Foundation, which assists education, children, and families in need. For more information about Avira visit www.avira.com.