Tuesday, September 23, 2008
Avira concludes a partnership with akquinet
A common goal: Virus protection for SAP systems
Tettnang, 23 September 2008 – International IT consulting company akquinet will work in close cooperation with Avira. The software companies will use their common synergy to offer SAP customers sound virus advice and support when implementing the certified Avira AntiVir Scan Adapters in SAP applications under SAP NetWeaver.
Ralf Kempf, company manager of akquinet, stated: "Avira belongs to the pioneers of anti-virus software and many years ago produced the first SAP-certified virus scanner onto the market. The AntiVir Virus Scan Adapter extends the technological platform of SAP NetWeaver with the necessary virus protection and monitors document exchange for SAP applications. Our customers profit from a solution which protects their system from malware and avoids failures of critical company applications".
Virus protection for SAP systems is an essential part of an extensive security concept for companies of every size: as an integration and application platform, SAP NetWeaver enables the companywide exchange of different information, documents and business transactions – ranging beyond the limits of application. This open structure is of course susceptive to the inherent dangers of receiving, storing and forwarding contaminated files. It is here that the virus protection from Avira is effective: the software inspects all files which are exchanged between SAP applications via the SAP-GUI or via the SAP Enterprise Portal or those infiltrating the SAP system from outside. Recently SAP has recertified the virus scanner for Windows Server 2003 as well as for Sun Solaris 9.
Rainer Witzgall, Executive Vice-President of Avira, is delighted with the cooperation of the consulting company from Hamburg and added: "We form a strong team because we are partners of the same level. akquinet and Avira have many things in common: both have competent experience in their core business, offer process and branch-oriented IT solutions, are of the same company size and are on an expansion course. Together we will approach the frequently underestimated, and also for many users, the still unknown security issues in the SAP environment".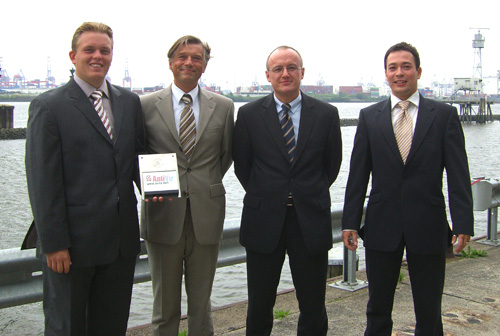 Bastian Majewski, Avira / Prof. Dr. Christian Roth, akquinet AG / Ralf Kempf, akquinet AG / Alexander Mann, Avira
About akquinet
akquinet AG is a leading provider for SAP consulting, IT services and outsourcing with their main office in Hamburg. In the area of SAP the focal point of business is centred in the sectors of risk management, application controls and technical SAP safety. Having many years of experience in these sectors, akquinet helps customers to bring SAP safety to the highest level. akquinet AG achieved an annual turnover of 22 million Euro in 2007 and currently has 280 employees. They have computer centres in Hamburg and Itzehoe in which 40% of the employees are fully integrated into the daily work who have a personal handicap.
About Avira
Avira protects people in the connected world – enabling everyone to manage, secure, and improve their digital lives. The Avira umbrella covers a portfolio of security and performance applications for Windows, Android, Mac, and iOS. In addition, the reach of our protective technologies extends through OEM partnerships. Our security solutions consistently achieve best-in-class results in independent tests for detection, performance, and usability. Avira is a privately-owned company that employs 500 people. Its headquarters are near Lake Constance, in Tettnang, Germany, and the company has additional offices in Romania, India, Singapore, China, Japan & the United States. A portion of Avira's sales support the Auerbach Foundation, which assists education, children, and families in need. For more information about Avira visit www.avira.com.