Wednesday, February 8, 2017
Best-in-class protection for your digital life: Avira Antivirus Pro earns AV-Comparatives' "Product of the Year" award
Tettnang, February 8, 2017 – Independent testing authority AV-Comparatives has awarded Avira Antivirus Pro computer security its highest "Product of the Year" award. Antivirus Pro won the renowned testing laboratory's top Advanced+ score in all seven specialized tests conducted throughout 2016, leaving other products trailing. The award proves that Avira Antivirus Pro offers the best-possible protection against online threats such as malicious websites, ransomware, Trojans, spyware, and other types of malware. For the full details about the test, visit AV-Comparatives.org.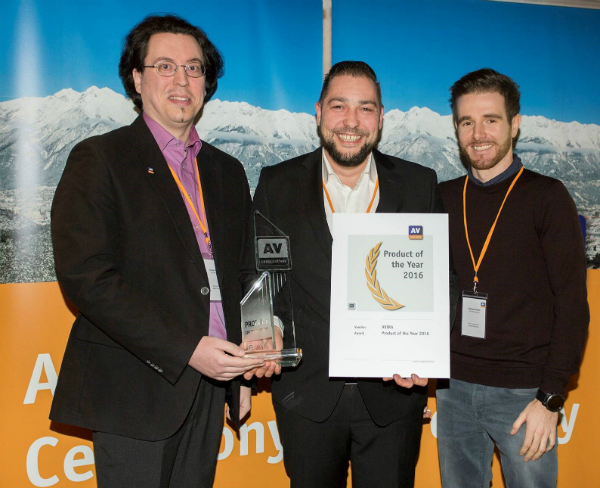 AV-Comparatives tested 19 Windows-security products, analyzing protection capabilities against malicious software, impact on PC performance, whether the program confuses with 'false positives' (blocking apps by mistake), and more. Over the course of 2016, Avira Antivirus Pro achieved top results in every test, also scoring points for ease of installation and user-friendly controls.
In addition to the Product of the Year award, Antivirus Pro took an additional four awards: two Silver Awards for Real-World Protection and Malware Removal, and two Gold Awards for File Detection and Performance.
"We are extremely happy and proud that Avira Antivirus Pro was crowned Product of the Year," said Alexander Vukcevic, Director Avira Virus Labs. "We are constantly enhancing Antivirus Pro to tackle emerging threats, and to offer our users the best-possible protection. This award from AV-Comparatives demonstrates once again that our approach is working."
"In 2016, Avira Antivirus Pro attained outstanding results in all our tests, showing dependable protection against malicious software with low impact on computing power. Even if the computer could somehow get infected, users can rest assured that the repair functionality of Antivirus Pro will remove malware in a way that protects the user's data," said Andreas Clementi, CEO of AV-Comparatives. "Winning our Product of the Year award, plus the other awards, shows that Avira protection technology sets a new standard for cutting-edge security software solutions."
The Product of the Year award including the two Silver Awards for Real-World Protection and Malware Removal, and two Gold Awards for File Detection and Performance, were given to Avira by AV-Comparatives at an awards celebration on February 7.
For further information released by AV-Comparatives about the awards, visit AV-Comparatives.org.
For information about Avira Antivirus Pro, click here.
About Avira
Avira protects people in the connected world – enabling everyone to manage, secure, and improve their digital lives. The Avira umbrella covers a portfolio of security and performance applications for Windows, Android, Mac, and iOS. In addition, the reach of our protective technologies extends through OEM partnerships. Our security solutions consistently achieve best-in-class results in independent tests for detection, performance, and usability. Avira is a privately-owned company that employs 500 people. Its headquarters are near Lake Constance, in Tettnang, Germany, and the company has additional offices in Romania, India, Singapore, China, Japan & the United States. A portion of Avira's sales support the Auerbach Foundation, which assists education, children, and families in need. For more information about Avira visit www.avira.com.