Thursday, June 9, 2016
Avira Launches 'Software Updater' in Beta
Foils Cybercriminals' Exploit Kits and Zero-Day Threats; Finds and Installs Security Patches Across All Computer Applications Automatically.
TETTNANG, Germany – June 9, 2016 – Avira, developers of the #1-rated antivirus security software, today launched 'Avira Software Updater' as a beta.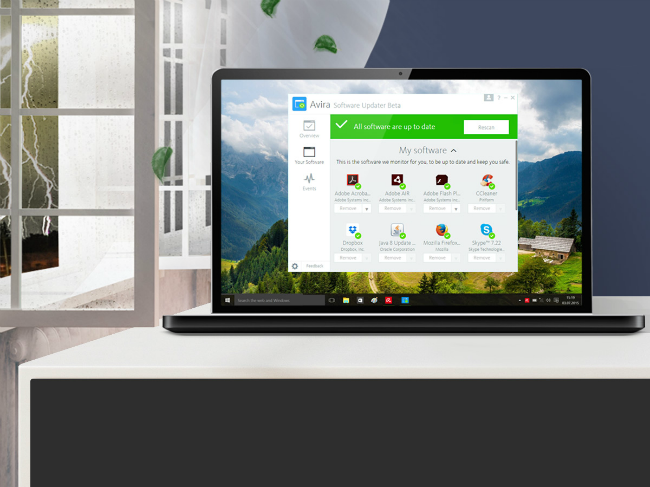 Keeping updated and patched against new malware vulnerabilities is an essential – but time consuming and irritating – part of keeping your computer secure. The new Avira Software Updater Beta makes this process easier by automatically searching for updates and managing the patching process for you – and it is free.
"Software Updater does what most security products only dream of doing. It makes life both simpler and more secure, protecting you against zero-day attacks" said Victor Mihaiu, Product Manager at Avira.
Yes, you are vulnerable
Cyber-criminals regularly exploit vulnerabilities and unpatched software in their targeted attacks – and there are a lot of them. There were 8,822 vulnerabilities in applications, browsers, mobile devices, and operating systems added last year to the US National Vulnerabilities Database – an increase of nearly 2,000 during the year. As parsed out by GFI, this included 314 vulnerabilities for Adobe's Flash Player, 231 in the outgoing Microsoft Internet Explorer, 178 in Firefox, and 80 in Java Runtime.
Quickly patching vulnerabilities and keeping computers fully updated can prevent many as 85 percent of targeted attacks, according to the US Computer Emergency Readiness Team. "Ensuring these are patched with the latest updates greatly reduces the number of exploitable entry points available to an attacker," pointed out US CERT in its Alert (TA15-119A) on the Top 30 Targeted High Risk Vulnerabilities. Their list of the 30 most commonly exploited vulnerabilities included well-known programs from Adobe, Java, and Microsoft.
Do you really patch it?
Patch, patch immediately, and patch often' is the mantra for effective online security. But quite often, people just don't. The average computer runs more than 20 various programs, it is an organizational chore to keep track of what needs to be updated, go find the updates, and download them quickly.
"The result is that people have an uneven patching process, with some programs kept more up to date than others. The cybercriminals know this and send out exploit kits that test computers for an array of vulnerabilities and then take the first weakness they find," stated Alexander Vukcevic, head of the Avira Virus Lab. "We can't stress enough the importance of keeping your computer fully updated."
Patching should be painless
The new Avira Software Updater Beta takes care of this task; hunting down news of updates for key programs, centralizing this into one user-friendly location where downloads are just a click away. From there, all upgrades can be installed with a simple click.
Here is how it works:
Avira Software Updater detects that an update is available and informs you with a small pop-up notification
After clicking on the notification, the Software Updater interface greets you with information about the exact updates you need and gives you the option to start an automatic download.
Start the updates at your own convenience.
Relax, you are covered.
"With Software Updater, we've answered the 'how to patch' question and made the process much faster and simpler. Our user experience is simple, clear and honest – always keeping you in the loop," explained Mihaiu. "Keeping your software updated is one of the single most important tasks that you can do against zero-day threats – we just make it easier."
Avira Software Updater is being released as a Beta. "The Beta is there to signify that our priority is to expand the supported application list," he added.
Apps currently included in Avira Software Updater Beta*:
Adobe Air
Adobe Flash Player ActiveX
Adobe Flash Player NPAPI
Adobe Reader DC
Adobe Reader 11
Dropbox
Java JR
Mozilla Firefox
Skype
VLC Media Player

*The list of apps included in Avira Software Updater is continually being expanded.
About Avira
Avira protects people in the connected world – enabling everyone to manage, secure, and improve their digital lives. The Avira umbrella covers a portfolio of security and performance applications for Windows, Android, Mac, and iOS. In addition, the reach of our protective technologies extends through OEM partnerships. Our security solutions consistently achieve best-in-class results in independent tests for detection, performance, and usability. Avira is a privately-owned company that employs 500 people. Its headquarters are near Lake Constance, in Tettnang, Germany, and the company has additional offices in Romania, India, Singapore, China, Japan & the United States. A portion of Avira's sales support the Auerbach Foundation, which assists education, children, and families in need. For more information about Avira visit www.avira.com.