Tuesday, June 23, 2015
Avira evaluates the privacy risks of all Android apps
Tettnang, Germany --- June 22, 2015 – Security expert Avira releases new features in its Antivirus Security for Android, confirming that Mobile protection is currently a hot topic for the security industry. Starting today, Avira offers Android users the opportunity to find out what type of data is being shared with the apps they have on their mobile devices. And it doesn't stop there.
Privacy Advisor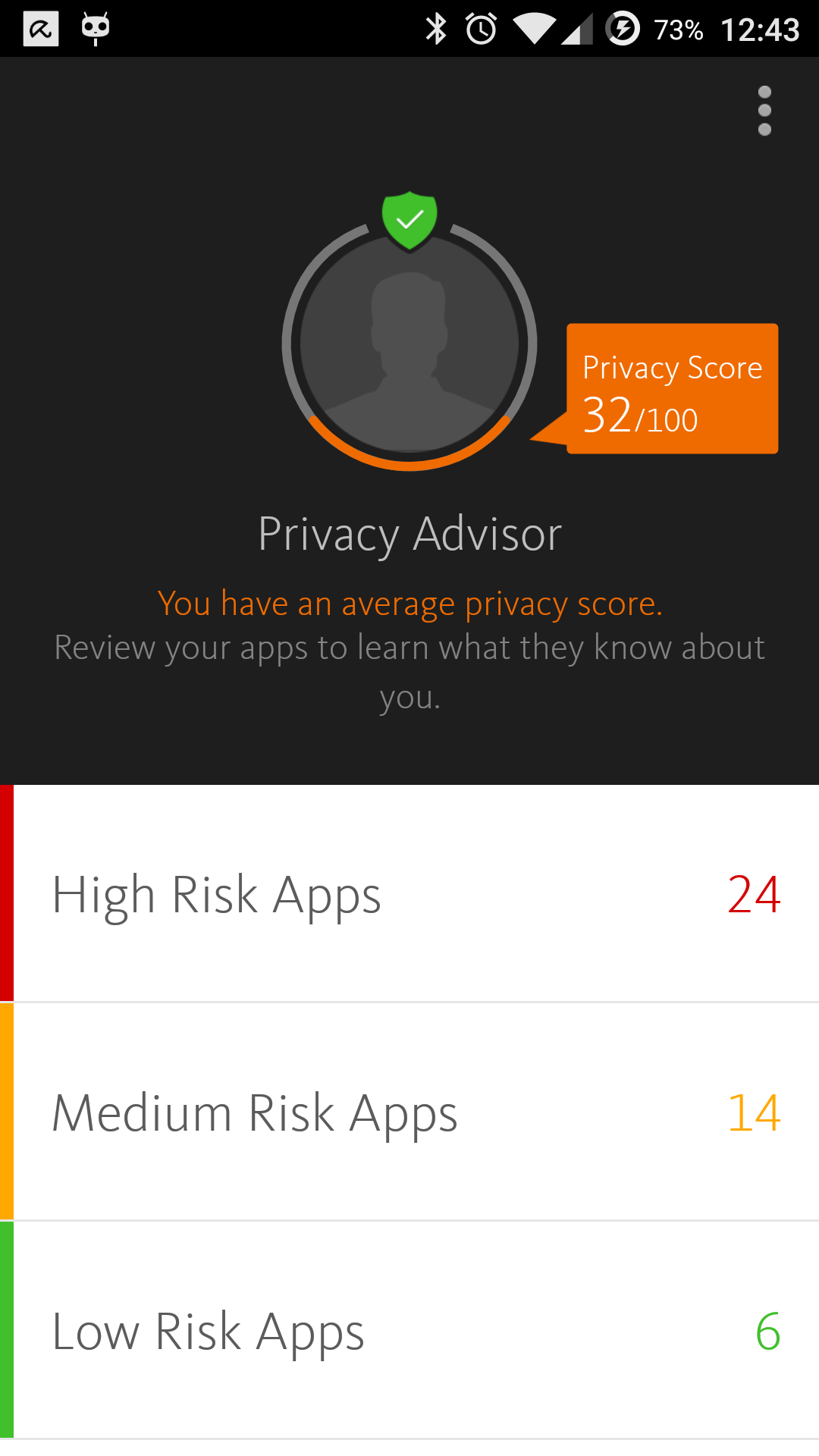 As the name suggests it, the newest feature offered by Avira Antivirus Security for Android allows registered users to increase the level of privacy on their smartphones and tablets by avoiding and potentially uninstalling high risk apps.
The apps that are most likely to be included in this category ask for very sensitive and personal data related permissions during the installation process.
In worst cases, malicious apps can take advantage of SMS permissions to send premium messages and register users for unwanted services, sometimes leading to financial losses.
Even if there are applications that may have an important impact on the users' privacy, some of them have a high number of permissions related to personal data because their purpose of being demands them. These applications may either be trusted by Avira itself (e.g. Community Trusted applications) due to the developer's reputation and/or high number of downloads or can be trusted by the user himself if he knows for a fact that the app is not a security risk.
Coming soon on Android Optimizer
Three months after releasing its Android Optimizer app, Avira already helped almost 500.000 users optimize the overall speed and performance of their mobile devices, all for free. Following users' feedback, the app has already been localized to three more languages (French, Italian and Portuguese), making it easier to use.
In order to make the app even better, Avira's mobile development team will soon release a version that supports an always-on widget, enabling users to instantly optimize their devices, at the tap of the screen. This update was designed to fit the needs of users who want to have an always ready and optimized smartphone or tablet in their pockets.
12 million downloads and numerous awards
Avira's efforts of enhancing mobile security are paying off, as Avira Antivirus Security for Android excels in all Independent Labs Test results. Only last month, AV-Test nominated Avira as "The best antivirus software for Android", with 100% detection rates and a total score of 6/6 on Protection and Usability. PCSL also awarded 5 Stars for Avira in the April edition of its Android Malware Detection Test.
More than that, 12 million users have already downloaded Avira Antivirus Security for Android, making this the best reward for the Product team.
"Avira users should feel safe and protected on every device they use to connect to the Internet. My team has the important mission of securing their mobile devices and preventing all types of attacks from happening. As private data becomes an easier target on smartphones and tablets, protecting the users' privacy is a top priority for us. We strongly believe that a feature like "Privacy Advisor" will make it easier for people to know which app is interested in their personal information and gives them the power to decide if they agree to share it or not" said Corneliu Balaban, Mobile Development Manager at Avira.
The newest version of Avira Antivirus Security for Android (version 4.1.3643) was uploaded on the Google Play Store and can be downloaded for free.
Links
Media Contacts:
Iulia Mazilu
PR & Social Media Manager
Tel: (+40)730 280 206
Email: iulia.mazilu@avira.com
About Avira
Avira protects people in the connected world – enabling everyone to manage, secure, and improve their digital lives. The Avira umbrella covers a portfolio of security and performance applications for Windows, Android, Mac, and iOS. In addition, the reach of our protective technologies extends through OEM partnerships. Our security solutions consistently achieve best-in-class results in independent tests for detection, performance, and usability. Avira is a privately-owned company that employs 500 people. Its headquarters are near Lake Constance, in Tettnang, Germany, and the company has additional offices in Romania, India, Singapore, China, Japan & the United States. A portion of Avira's sales support the Auerbach Foundation, which assists education, children, and families in need. For more information about Avira visit www.avira.com.