Avira Phantom VPN
Countries have borders. The Internet shouldn't.
Easily unblock access to streaming services with Avira Phantom VPN.
> Watch online TV from anywhere
> Access censored social networks while travelling
> Download content securely and anonymously
Save
37%
Buy now & save
$119.88 $77.99
Billed annually. Only $6.50 /month.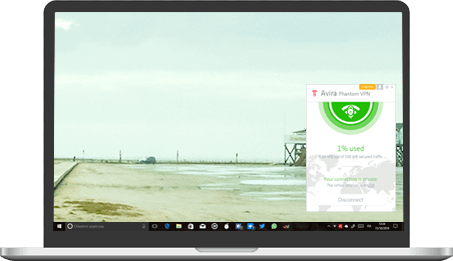 Never miss out on another episode
We've all seen the notification: "This video is unavailable in your region." With our VPN, you'll never experience that again.
Whether it's films, music, or sports, many online streaming services are restricted to certain geographic locations. Phantom VPN bypasses those restrictions, letting you access them anywhere you are.
Phantom VPN bypasses Internet censorship
Countries have borders. The Internet doesn't have to. We ensure that your favorite services are accessible, even when travelling.
Whether it's social networks (Facebook, Twitter, LinkedIn), satirical news (e.g. The Daily Show), or late night shows (e.g. SNL), many are subject to national firewalls. We help you climb over them, to enjoy a freer Internet.
Phantom VPN secures and conceals your online activities
Secures your connections
Do you check your email at cafes, airports, and hotels? That's fine, as long as you encrypt your communications with Phantom VPN.

Protects your privacy
We change your IP Address , hide your location, and even protect you against DNS leaks , so you can always remain anonymous.

Covers your tracks
We make it much harder for advertisers to track you across websites and build profiles of who your are and what you like. It also hinders attempts to get ahold of your data in untargeted sweeps.

Respects your privacy
As a German company, Avira is subject to some of the most stringent privacy laws. When using our service, we do not track what you do online.

Offers pushbutton convenience
On. Off. On. Off. It's that simple.
Trusted by over 1 million
customers – and the specialized
press as well
"Extremely simple" – Chip
"Every internet security company offers some form of privacy protection… but Avira takes this to the next level with its own VPN product." – Techradar pro
"Performance was a major plus" – Betanews
How does a VPN work?
Avira Phantom VPN directs all your web traffic via a private and secure data tunnel, which encrypts your communications and prevents them from being intercepted. At the same time, you get a new IP address, which helps you access websites that are unavailable in your region and prevents advertisers from tracking you across websites.

devices VPN

web / internet
Get access to 34
server locations with
Avira Phantom VPN.
Buy now & save
$119.88 $77.99
Billed annually. Only $6.50 month.
FAQ
>

What movie-streaming sites can I access with Phantom VPN?

Below is a non-exhaustive list:
Amazon Instant Video
Hulu Plus
HBO Go
BBC Player
RTL, Showtime
Crackle
Starz
Lifetime
ITV Player
>

What about sport-streaming sites?

Here are a few of the most popular ones:
ESPN
Premier League
Bundesliga
Eurosport
Tennis Channel Everywhere
PGA Tour Live
Golf Channel
WWE
NHL Vault
NFL Games
>

Music-streaming too?

Yes. Here are the ones we get asked about the most:
Spotify
Pandora
Google Play Music
Apple Music
Slacker
Vevo
Rhapsody
Samsung Milk Music
Radio.com
iHeart
>

Do you track any info?

We do not track the websites you visit nor any info that can link activities back to you.

We do measure how much traffic is consumed, and collect some diagnostic data (e.g. bugs), which you can disable from within the product.
>

Can governments request data?

Our policy is as follows: we cannot share what we don't know.

We must legally comply with the legislation in countries we operate, so we ensure we have nothing sensitive to share.
>

How secure is your encryption?

Avira uses the 256 Advanced Encryption Standard.

This encryption standard offers more combination possibilities than there are stars in the universe (1042). It would take billions of computers longer to crack the encryption than the age of our universe (13.8 billion years).
Computer, laptop,
Smartphone, or tablet?
Phantom VPN runs on all your
devices – simultaneously
Save
37%
Buy now & save
$119.88 $77.99
Billed annually. Only $6.50 month.
Mac OS X 10.10 (Yosemite) and later