Avira Free Mac Security
A secure future in a multi-platform world
Found any worms in your apples? How about viruses, Trojans or maybe some spyware? Avira doesn't believe that malware belongs in any Apple. The Avira Free Mac Security allows users to have a complete peace of mind that their Apple Macintosh will stay squeaky clean.
.
.
.
.
Reliable and Fierce Protection
Malware is taking a big byte out of the Apple Macs. Contrary to the legend, Macs are not immune to viruses and have even become a growing target for malware.
Backed by over 25 years of proven technology, Avira Free Mac Security not only eliminates emerging Mac threats, but also crushes any PC viruses that might spread by way of a Mac. Avira delivers versatile functions and protection that caters to both the consumer and business' values. For businesses looking to improve their security efficiency, Avira offers an array of effective and adaptable solutions. The Avira Free Mac Security's award-winning virus detection and industry-leading features deliver sophistication and reliability to the Mac's security platform.
A complete peace of mind is only a click away.
Press Kit
To access product images and further information, just click on the link below:
Download Press Kit
(ZIP, 10.1MB)
Comprehensive Features
Real-Time Protection
Avira Free Mac Security is constantly on guard for viruses and other threats. Every file accessed by the user and the system is silently inspected so that no infected file sneaks in between system scans.
Multi-Talented Scanning
Scan as much or as little as you like—the full system, vulnerable areas or selected files and folders. It's all done silently in the background without slowing down your machine.
A United Front Against Malware
Though a Mac is less vulnerable to viruses, it can unleash Windows-born viruses to friends', colleagues' and family members' PCs. Empowering each Mac with Avira's antivirus expertise optimizes the overall security of any network.
Integrated Scheduler
Set it and forget it. The scheduler keeps the Mac scanned regularly, while automatic updates ensure continuous protection from new and changing threats.
Geeks Gone Incognito
Don't be fooled by the exceptionally simple interface. All the complicated security goes on behind the scenes. Want to dig into heuristics and event logs? Technical details and expert settings are always a click away.
One-Click Repair
Is my Mac safe or not? If you're like most people, that's all you really want to know. If a virus has been detected, or your security configuration could use improvement, one click restores optimum protection.
The Best Antivirus You'll Never Experience
Avira Free Mac Security has award-winning virus detection packed into a smart application that almost never needs attention. Enjoy the multimedia world or work without interruptions.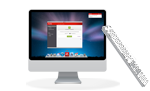 Download a Press Kit Here
Download