Your 30-day trial download will begin in a moment...
If it does not start automatically, please click here.
You are now downloading the Avira Antivirus Premium 30-day trial
You are about to experience real peace of mind online. Why not stay protected all year long?
Enhanced phishing filters to steer you clear of identify theft and other scams
Faster, more frequent updates for the most effective detection of new threats
High-speed email and website scanning for worry-free email, surfing and social networking
Buy Now For Only $36.99
What happens next?
1. Your download will finish shortly.
2. Select "Test Product" in the pop-up.
3. Follow the on-screen instructions.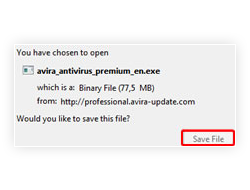 It should take only a couple minutes over most connections. Open the downloaded file.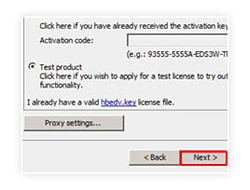 Unless you already have a valid license key, choose the second option, "Test Product".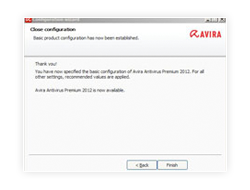 Using either Express or Custom Installation, your product will be configured in a few clicks.
We're here for you.
During your month-long free trial, you'll enjoy the full support and functionality of the paid product. You'll have unlimited access to our Support Portal , including our knowledge base and user forum , and our exclusive support phone line for paid users.

Most popular
Data protection and antispam for networks of up to 100 users
Centrally managed antivirus for workstations and file servers
Fast, flexible security for desktops and laptops
.
.
.
.