Automatic upgrade
What you should know about the upgrade
The first thing you need to know is that this upgrade will not affect the duration of your license nor will it require you to provide any personal information.
So why upgrade?

Largely to deliver security improvements. The latest version of your product includes additional layers of protection, such as the Avira Protection Cloud or the ability to scan shared folders. It is also lighter and consumes fewer resources.
What do I need to do?
Actually, very little. When the upgrade is implemented in a few days days time, an upgrade assistant will appear.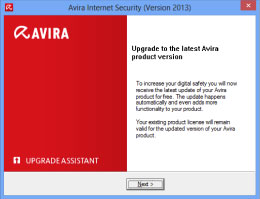 Just click on "Next" to start the upgrade, then follow the on-screen instructions.
For step-by-step instructions,
please download our How-to Upgrade Manual.