Give yourself more space, speed and privacy
Avira offers you a visual representation of your scores across 3 key characteristics: disk, performance, and privacy. Our 1-click scan then drastically increases your speed, cleans your PC, and removes traces of your browsing activities.
Additional privacy safeguards, such as file encryption and a digital file shredder, are also included.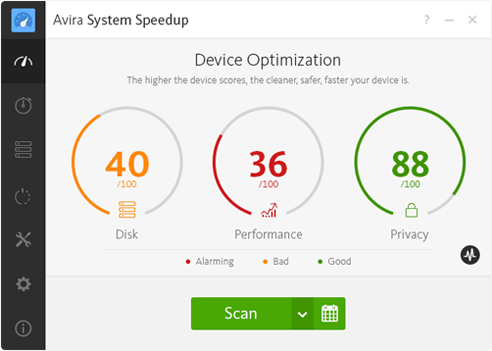 Get faster starts
Enough waiting… for your PC to start, your browser to open, your files to load. Avira System Speedup helps you get your stuff done quicker.
We analyze how fast your PC boots, find ways to make it faster, and show you the evolution of your boot speed over time.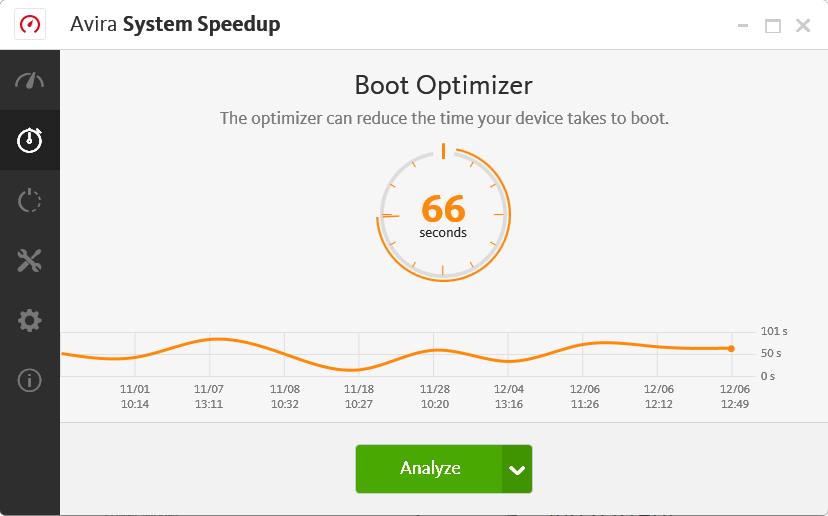 Get a cleaner, leaner PC
Avira System Speedup removes junk files, cookies, and traces of your browsing which unnecessarily clutter your PC and browser. We also clean your system registry, which helps prevent crashes and generally enhances your PC's stability. In the process, we free up an average of 75 GB* of space over time.
---
*Industry average. Your results may vary.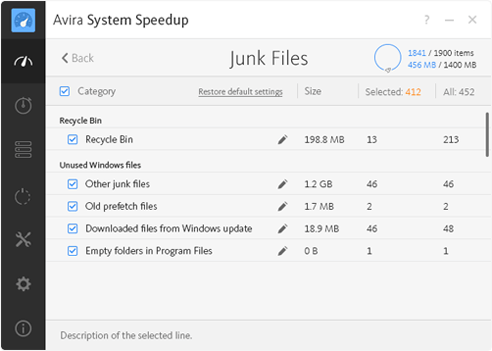 Prolongs your PC's battery life
Our Battery Booster optimizes the Windows power scheme, disables unnecessary startup apps, runs regular sweep routines, and automatically adapts CPU frequency according to running task requirements.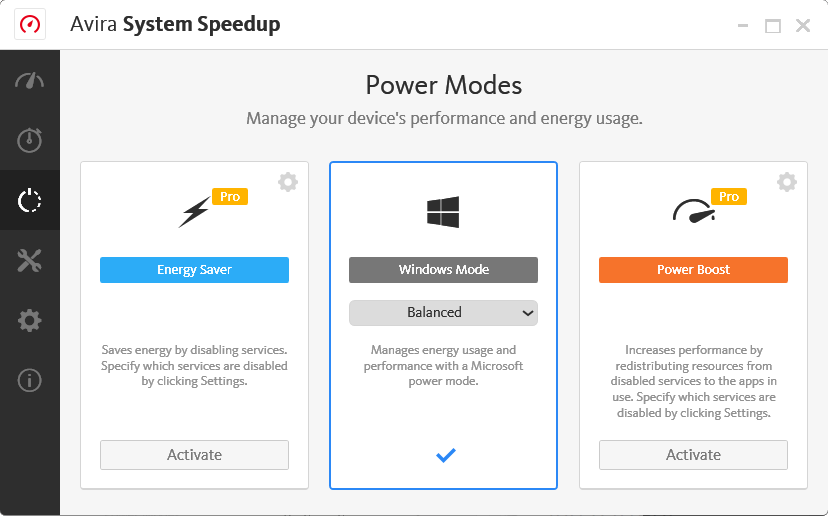 Full features and system requirements
Junk File Cleaner
Locate and remove obsolete, duplicate, and empty files.
Boot Optimizer
Improve your start-up time.
Privacy Cleaner
Erase your surfing history, web caches, cookies, and other browser data.
Registry Cleaner
Detect and clean registry errors.
File Shredder
Delete files beyond recovery.
File Encryption
Make your saved files unreadable to outsiders.
Disk Analyzer
View how the storage space is allocated between your files.
Disk Doctor
Diagnose malfunctioning hard drives.
Disk Wiper
Permanently remove all data from your hard drive, making retrieval impossible.
Disk & Registry Defragmenter
Defrag your disk and registry to make them more compact, reducing the time it takes to open and save files.
Drivers
Identify problematic drivers by displaying those whose publisher is unknown.
Service & Process Manager
See all active services and processes on your PC. You can then stop those that cause crashes or use up too much memory.
Registry Backup
Backup and restore your Windows registry.
MBR Backup
Backup and restore your master boot record (MBR), which is responsible for how your files are partitioned.
File Backup
Backup and restore your files.
Restore Changes
Restore changes made by System Speedup.
File Recovery
Scan your disk and retrieve deleted files (unless they were deleted with our disk wiper).
System Restore
Manage your system restore points, which help you restore your PC.
Repair Network LSP
Repair network layered service providers (LSP) when files get changed or corrupted.
Network Manager
See which application is currently connected to the Internet, and terminate any unwanted connections.
Software Uninstaller
Quickly, easily, and permanently uninstall programs.
Energy Saver
Save power by disabling services.
Windows Mode
Manage energy usage and performance.
Power Boost
Increase performance by optimizing resource use.
System Speedup runs on Windows only.
You don't need much! Just a PC running Windows 7 (32-bit or 64-bit) or higher, 1024 MB+ of RAM, and 800 MB+ of hard disk space. That's it!
Downloading System Speedup
Your download should start within seconds. If it does not, click here to restart the download.
How to install
Once the download is complete, open the file to start the installation.
Follow the on-screen instructions.