What are hidden objects?
When you perform a system scan, you may get the message "Hidden objects were found.":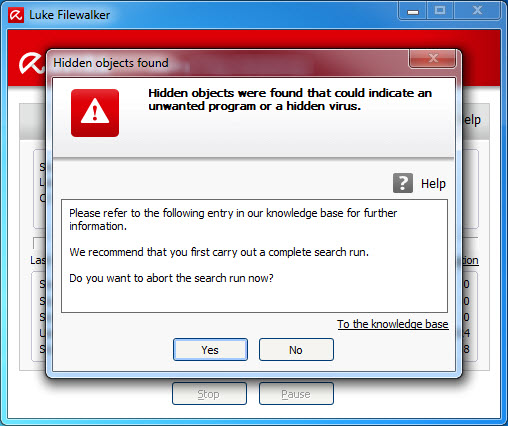 With hidden objects you basically have to differentiate between digital form and hidden Registry-Entries.
Hidden objects get created by Malware like Rootkits or other software programs.
However, hidden objects can also be created from software, which are not malware. The following software is known so far:
VMWare
Alcohol
Acronis True Image
Nero
The operating system itself
Daemon tools
There is the following entry in the scanner logfile:
---
[NOTE] A memory modification has been detected, which could potentially be used to hide file access attempts.
---
To browse your system for hidden objects and to delete them, please use our Avira Rescue CD as described in this article.
If Avira Antivirus still detects hidden objects even though the system has been checked and cleaned, please get in contact with our Support.
受影響的產品
Avira Professional Security [Windows]
Avira Free Antivirus [Windows]
Avira Antivirus Premium 2013 [Windows]
Avira Internet Security 2013 [Windows]
建立日期 : 2012年3月9日星期五
上次更新 : 2013年10月14日星期一