AV10: Avira AntiVir Personal protection is disabled after upgrading to Service Pack 2
On some systems the deactivation of the protection can occur after the Service Pack 2 Update. Avira AntiVir has the status "Disabled" at Online protection and "Unknown" at AntiVir WebGuard, although not installed.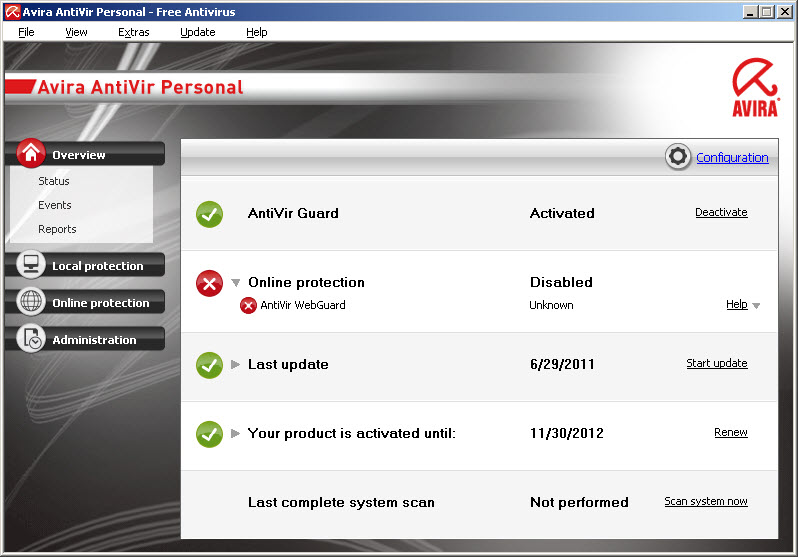 To activate the Avira AntiVir Personal Protection again, please perform an update as follows:
Select Update on the main menu in the control center
Then click on Start product update… in the drop-down menu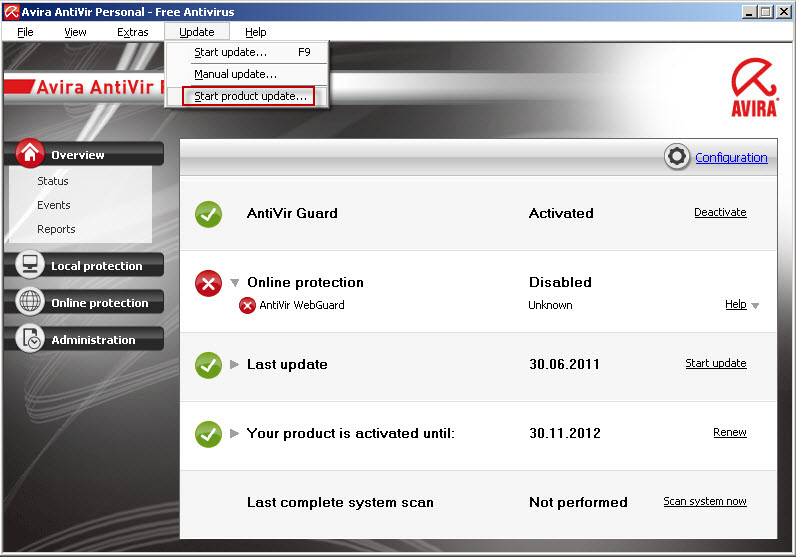 The required files will now be downloaded and installed.
Check to see whether the AntiVir protection is now "Enabled".
Should this problem still persist, we propose a new installation. Please proceed as follows:
In Windows 7 click on Start → Control Panel → Uninstall a program
Then select the program "Avira AntiVir Personal –Free Antivirus" and click on Uninstall
Confirm the next window with Yes and then complete the Uninstall in the maintenance window by clicking on Finish
Thereafter, you should perform a system reboot. Confirm the next window with Yes


After the reboot you can go to our download-site at http://www.avira.com/en/support-download-free-antivirus to download the lastest version (type "exe")
Once you have saved it on your desktop or in a folder of your choice you can install Avira Antivr Personal again by double-clicking on the setup file.
Affected products
Avira AntiVir Personal - Free Antivirus, Version 10 [Windows]
Created : Wednesday, June 29, 2011
Last updated: Tuesday, May 29, 2012