Improve the start-up time of your PC?
After the start-up Avira System Speedup automatically displays the time needed for starting the system.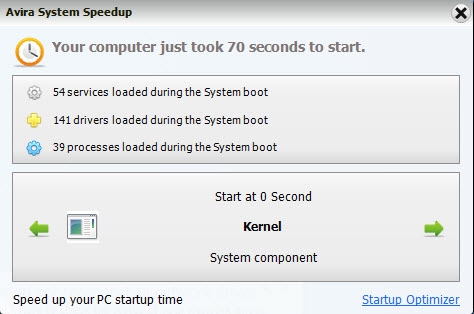 To optimize the time, you can click on the link Startup Optimizer. Then, a window will open, listing all the applications that have been started during the boot process.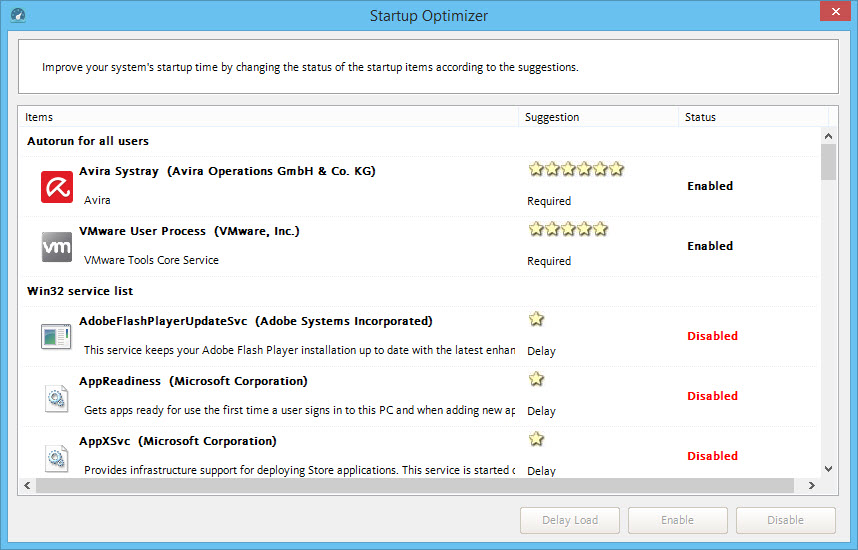 Now you can decide which applications should be or should not be included in the boot process. Avira System Speedup helps you with this decision as it suggests if the application is needed or if it causes unnecessary delays in the boot process.
---
Note
Please be careful with deactivating applications. Otherwise it may happen that your system cannot boot flawlessly because a needed application does not start anymore.
---
To deactivate an application just click on the line and click on the button Disable.
In case the above mentioned window will not appear after the boot process, you can remove applications from the auto run as follows:
Open Avira System Speedup
In the menu in the bottom right corner click on the gear icon next to Startup Optimizer



As shown above, select the application which should be deactivated and click on Disable
Affected products
Avira Internet Security Suite [Not relevant]
Avira System Speedup [Windows]
Avira Ultimate Protection Suite [Windows]
Created : Monday, August 20, 2012
Last updated: Wednesday, January 21, 2015