No SSL-connection when using product activation or license renewal of Avira Antivirus Premium and Avira Internet Security (Version 2012 / 2013)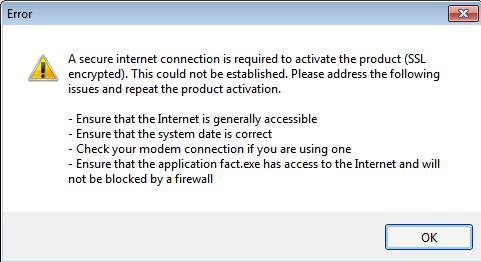 If you receive the message shown above during the product installation process or license renewal, stating that you require a secure SSL connection, you should go through the following cases and check the settings on your computer:
There was possibly a problem in recognizing the windows system settings

Close the note about the missing SSL connection with OK
Click within the license manager of Avira software on the button Proxy Settings





Change the setting to Don't use a proxy server



Close the window with OK
Try the activation process again


Do you use a proxy for the internet or security software that has installed a local proxy?
Usually and for most of the internet users there is no configuration of a proxy necessary to connect a computer with the internet. If the computer is part of a company network or if security software is used that installs a local proxy for filtering internet data, it is necessary to set it up within the Avira software. This enables the Avira product update to be completed successfully.

Proceed as follows to check whether a proxy on your computer is set up:

Start → Control Panel → Internet Options
Click on the tab Connections



Within the section Local Area Network (LAN) settings click on the button LAN settings
Check whether the option Use a proxy server for your LAN is active



Write down the address and the port of the proxy
Close the configuration window by clicking on OK


Enter then the address you have written down by clicking on the button Proxy Settings within License management.



Enter the address and the port of the proxy within the option Connections via this proxy server. Leave the other fields blank.

Security software with firewall blocks the Avira product update process "fact.exe"
Check whether another security software with firewall is installed on your computer. One possibility to search for the installed software is within the program list of the windows start menu. Another possibility to look for it is by directly using the control panel (in XP via Software or in Windows 7 via Programs).

If you have identified the security software with a firewall, you can see and set the approved or blocked applications. In general you can achieve that by using the settings of the firewall. Make sure that no Avira program files (including sched.exe , update.exe and fact.exe ) are blocked.

The product activation still does not work
Please contact us by phone so we can do offline activation for your license. You can reach us from Monday to Friday 08:00 - 5:30 PM. Get in contact.
Once you are in the computerized voice menu press 3. That way you will be connected directly with the correct contact for your request.
Affected products
Avira Antivirus Premium 2013 [Windows]
Avira Internet Security [Windows]
Created : Monday, February 7, 2011
Last updated: Thursday, November 12, 2015