Some programs do not work anymore since SP2 for AntiVir10
In rare cases it can happen that certain programs no longer work as expected after the product update to service pack 2 for AntiVir 10.
The reason for this could be an improved self-protection of AntiVir which protects all AntiVir processes against unintended termination. This protection is very restrictive in the default configuration and thus might affect certain programs.
Please proceed as follows If a certain program shouldn't function anymore after the update to SP2 of AntiVir 10:
In the main menu click "Extras" and then "Configuration"
In the configuration window, check "Expert mode" first
Below the heading "General" select the item "Security" and then remove the check mark at "Advanced process protection". Confirm this change by clicking OK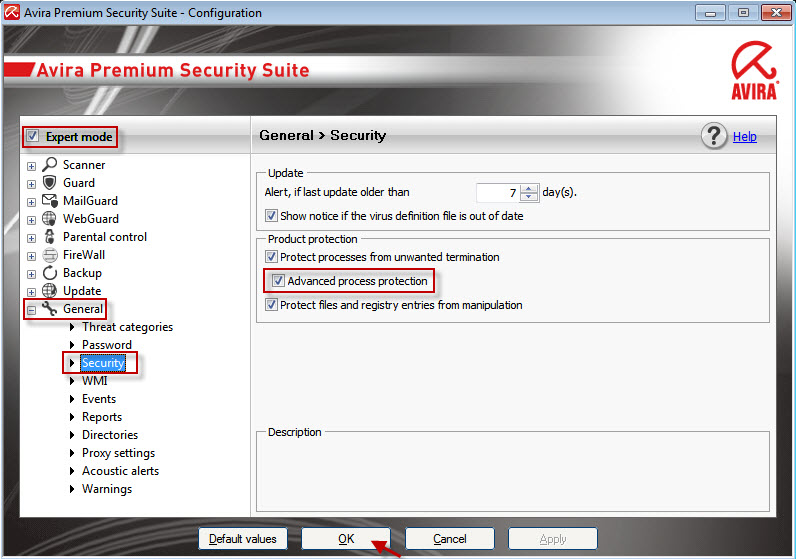 Note:
This screenshot is also valid for the products AntiVir Premium, AntiVir Personal as well as AntiVir Professional
The affected programs should then work again.
Please contact support in case you still encounter problems with some programs.
Affected products
Avira AntiVir Premium, Version 10 [Windows]
Avira AntiVir Professional, Version 10 [Windows]
Avira AntiVir Personal - Free Antivirus, Version 10 [Windows]
Avira Premium Security Suite, Version 10 [Windows]
Created : Tuesday, July 19, 2011
Last updated: Tuesday, October 11, 2011