How can I unblock autorun in AntiVir?
The Windows autorun function for all connected drives like USB sticks, CD/ DVD drives and network drives bears a high security risk. This useful function is used by malware and unwanted programs as a loop hole for hidden infections on the computer.
This is why, AntiVir Guard blocks the automatic run of storage drives by default, except CDs and DVDs. The following AntiVir message is shown: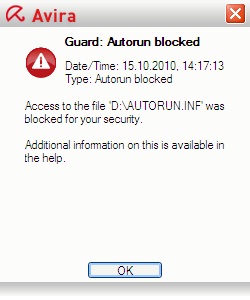 If you like to deactivate this function, please open the Avira AntiVir Control Center, click Configuration, activate Expert mode, go to Guard → Scan → Further actions, or Guard → Scan → Action on detection if you use Avira AntiVir Personal and uncheck the option Block autostart function. Click OK to save the changes.
Affected products
Avira AntiVir Premium, Version 10 [Windows]
Avira AntiVir Professional, Version 10 [Windows]
Avira AntiVir Personal - Free Antivirus, Version 10 [Windows]
Avira Premium Security Suite, Version 10 [Windows]
Created : Friday, October 22, 2010
Last updated: Tuesday, October 11, 2011

Most popular
Data protection and antispam for networks of up to 100 users
Centrally managed antivirus for workstations and file servers
Fast, flexible security for desktops and laptops
.
.
.
.