AMC: Administration of clients using a VPN connection
You need to make various preparations, if you have several locations that are linked via a VPN-connection with the Avira Management Console and you also want to manage those using a VPN-connection.
Creating and configuring the individual locations:
Create a group for each location within the AMC
Choose from the respective groups, right-click on the group and then select "Configuration" → "AMC Agent" → "Configure"



Below "communication" you can find three entries, which need adjustment so that they point to the AMC server accessible via VPN. Ideally, the respective IP address should be entered here in order to avoid difficulties with the name mapping.
Once you have entered the IP addresses, you need to confirm the changes by clicking on the button "Send now".
Preparing the Avira Management Console:
Click on "Configuration" and then select "Server Settings" → "Communication".



Select the option "Use IP Address" and click on "Ok".

Finish the services "Avira Management Console Server","Avira Management Console Event Manager" and "Avira Update Manager".
Change the AMC configuration file:
Now open the file "smc.conf" that you can find in Windows Server 2003 at C:\ Documents and Settings\All Users\Application Data\Avira\Avira Security Management Center Server\ .
In Windows Server 2008 you can find this at C:\ProgramData\Avira\Avira Security Management Center Server\
Change the line <ip value="xxx.xxx.xxx.xxx"> to <ip value="0.0.0.0"> to ensure that the AMC accepts AMC connections via the VPN-interfaces.
Configuring updates:
It is recommended to install at each site its own Avira Update Manager. To achieve that clients use it, enter it under the respective group by right-clicking "Configuration" again. Then select "Avira Professional Security" → "Configure".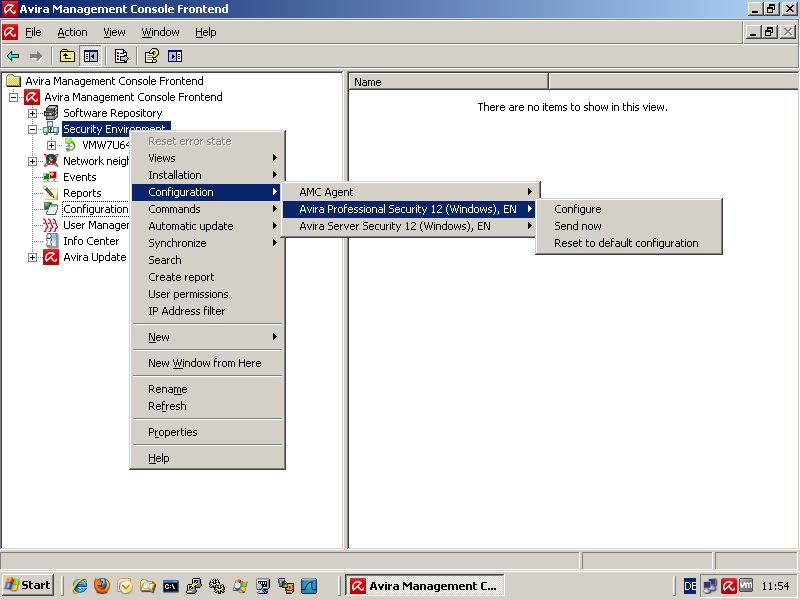 In the next window, expand the menus "Update" → "Web server" and enter the IP address of the Avira Update Manager at "Standard Server" using the format "http:// <IP Internet Managers> : 7080/update", then confirm it by clicking "Send now".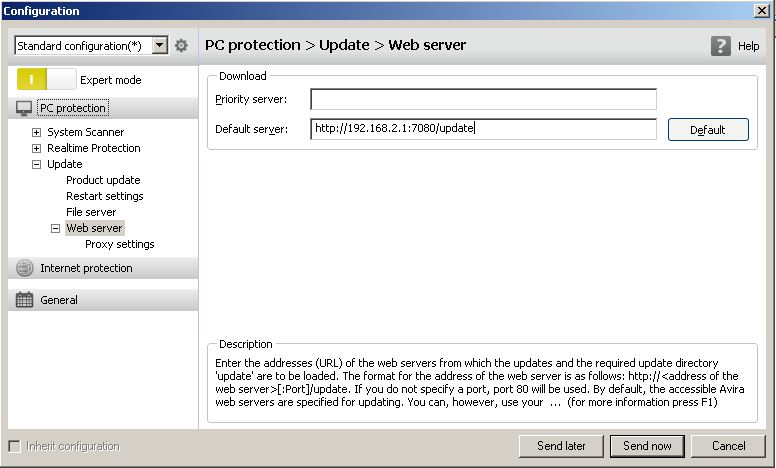 Additional adjustments:
Under certain circumstances the network configuration or firewall settings prevent a direct communication between agent and Avira Management Console. Here you should use the so-called "pull-mode".
To do this, right-click on the group and then select: "Configuration" → "AMC Agent" → "Configure"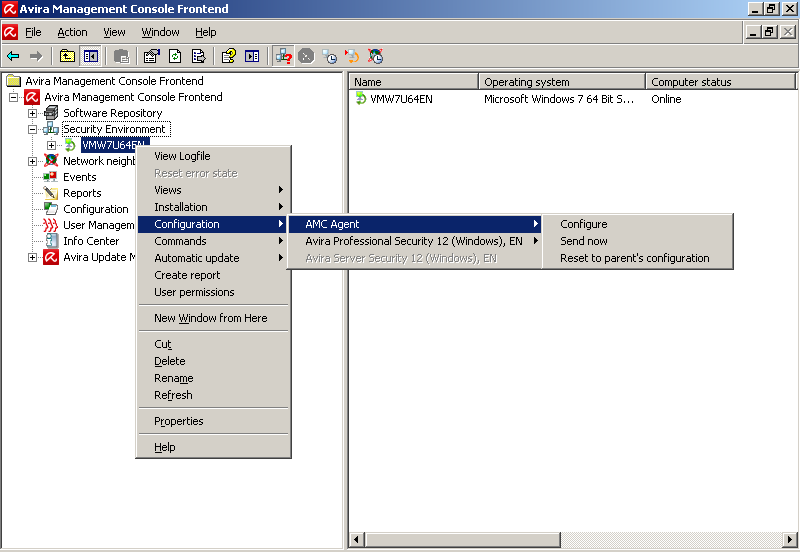 Select the option "Pull" in the new window and confirm it with the "Send Now" button.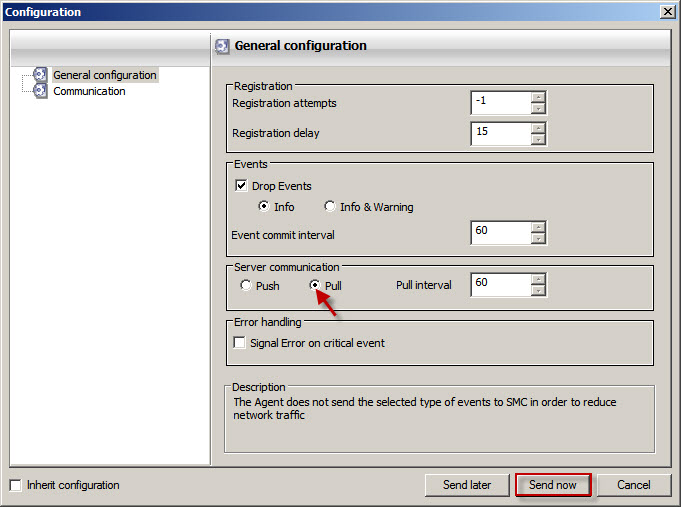 Please note that usually no remote installation via AMC can be performed in such networks. This is why you should do a local installation on the clients. You should also activate the "pull mode" here during the installation.
Affected products
Avira Management Console [Windows]
Created : Wednesday, March 30, 2011
Last updated: Wednesday, November 30, 2011