The installation does not continue automatically during the upgrade to Avira 2012
---
Note:
This problem was fixed with Service Pack 0, released in May 2012. Please check, if you have downloaded the latest version before you started the installation.
In case this problem persists, please contact our support team referencing to article Id: 1097.
---
In rare cases it can happen that the installation does not continue after a required reboot during the migration to Avira Free Antivirus, Avira Antivirus Premium 2012, Avira Interenet Security 2012 or Avira Professional Security.
This suggests damage to your installation and can only be fixed by a thorough uninstall and reinstall of your Avira product.
In addition we recommend the deactivation of Windows Defender prior to the installation, which can, among other causes, be responsible for this problem.
To access the configuration click on Start and then enter "defender" in the search window. Then, click on "Windows Defender".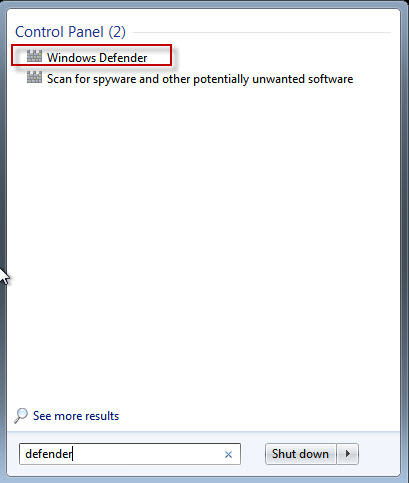 In the menu of the "Windows Defender" select Tools > Options. Remove the check mark from "Automatically scan my computer".
Click on administrator below on the left and uncheck "Use this program".
In Windows Vista you can scroll down and uncheck "Use Windows Defender".
Confirm the changes by clicking on Save and then by clicking on Close in the next window.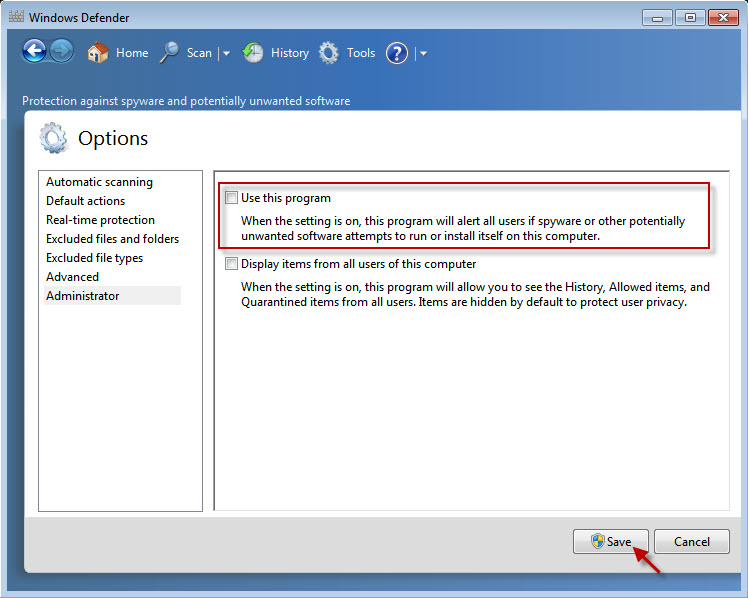 For the complete uninstall and ensuing new install, please proceed now as follows:
Download the Avira RegistryCleaner of the type "exe" on your desktop or a folder of your choice.
Caution: Do not yet execute the file!
Additionally, you can download the most current version of your product:

Avira Antivirus Premium 2012
Avira Internet Security 2012
Avira Free Antivirus
Uninstall your Avira product by clicking on Start and then Control Panel > Uninstall a program (for XP: Start > Settings > Control Panel > Add or Remove Programs).
Select the Avira product from the program list and then click on Uninstall (in XP: Remove)



Now, please restart your computer.
After the reboot, you should delete any remaining files of Avira.

To do this, click on Start > Control Panel > Appearance and Personalization > Folder Options. By clicking on the tab "View" you will find in the section "Hidden files and folders" the option "Show hidden files, folders and drives". Activate it and click on OK.

In XP, you will find the "Folder Options" at Start > Settings > Control Panel. Here you should activate the option "Show hidden files, folders, and drives" in the tab "View" at "Hidden files and folders".


Please delete now the following folders:
C:\Program Files (x86)\Avira
C:\Documents and Settings\All Users\Application Data\Avira
Execute the file "avira_registry_cleaner_de.exe" that you have previously saved on the desktop or a folder of your choice.
Click on the button Scan for keys and confirm the completed scan with OK.
Activate the control box at "select all" and then click on Delete. Confirm the next query with OK. Now, please restart your computer.


After the restart, run the installation file that you have just downloaded and follow the instructions.
As you reach the dialog of the license wizard, you need to enter the activation code; alternatively you can use your license file with the format HBEDV.KEY. Once the installation is complete, restart your computer.
However, if this procedure does not work and you still need help, then please contact Support, quoting the number of this KB-article (in this case 1097).
Affected products
Avira Free Antivirus [Windows]
Avira Professional Security, Version 2012 [Windows]
Avira Antivirus Premium, Version 2012 [Windows]
Avira Internet Security, Version 2012 [Windows]
Created : Wednesday, October 26, 2011
Last updated: Tuesday, May 14, 2013

Most popular
Data protection and antispam for networks of up to 100 users
Centrally managed antivirus for workstations and file servers
Fast, flexible security for desktops and laptops
.
.
.
.