Download Avira Internet Security Plus 2013
Protection that actually speeds up your computer!
Download Avira Internet Security Plus 2013
Whether constantly online while on the move or accessing the Internet from home, Avira Internet Security Plus is the assurance of maximum protection and the solution that will enhance the performance of your PC. In just a few clicks, you not only secure yourself against all online threats, you also increase your computer's speed!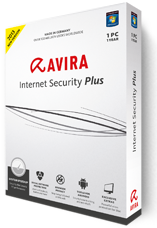 This product consists of two applications: Avira Internet Security 2013 and Avira System Speedup. Each of these must be downloaded and installed separately.
No license key?
No worries! Just go ahead and download Avira Internet Security Plus from this page. Then simply purchase a license instantly in our secure online shop.

Licensing your product is your key to a virus-free PC, years of privacy protection and a spam-free inbox.
Looking for Avira's older product versions?
To download Avira legacy software, please contact our Customer Support service with your request.

Most popular
Data protection and antispam for networks of up to 100 users
Centrally managed antivirus for workstations and file servers
Fast, flexible security for desktops and laptops
.
.
.
.